While the COVID-19 pandemic has undoubtedly been the world's biggest crisis over the past year, environmental experts urge us not to forget about the threat of climate change. One of the few positive effects of the pandemic has been the steep reductions in carbon emissions1 and energy consumption2 due to modifications in our behaviors. However, those numbers are expected to rebound. According to research by McKinsey & Company, energy consumption will double by 2050, and as a result, the pressure is on to figure out how to make energy production more efficient and sustainable.
Business giants like Amazon and Google have publicly rolled out plans to become more "green" over the next several years. But many small businesses—including eye care practices—may believe that some of the more significant sustainability efforts, like a conversion to solar or wind energy, are out of reach. Fortunately, green energy technology is only becoming more affordable. In fact, the cost of solar electricity has dropped 89% over the last 10 years.3
As more Americans go out of their way to support companies that make strong efforts to be sustainable4, investments that have a positive impact on the environment—whether big or small—can reap many benefits for businesses. For eye care practices, making sustainable changes can offer opportunities to not only reduce expenses and minimize their carbon footprint, but also attract new patients and deepen relationships with existing ones.
In this last installment of our series showcasing different approaches to sustainability in eye care, we'll hear from Brian Spittle, OD, of The Eye Place in Midlothian, Va., about how he went from being a self-proclaimed skeptic to going all in with a sizeable investment in the sustainability of his practice.
Along with Dr. Katie Greiner and Dr. Michael Cymbor, Dr. Spittle was among 20 eye care professionals who traveled to Alajuela, Costa Rica for CooperVision's clariti 1 day experience in 2019. The three-day educational event took place at CooperVision's 100,000-square-foot manufacturing facility, where participants were able to see the company's commitment to making a positive impact on the environment and collaborate with their peers about sustainability in eye care.
The experience completely changed Dr. Spittle's outlook on the importance of sustainability in his practice.
"Going into the event, I wasn't anti-sustainability, but it wasn't a priority. I didn't see how it affected me," said Dr. Spittle.
Through the course of the education and discussions at the clariti 1 day experience, something clicked for him. Not only was sustainability beneficial to the world around him, but it could be a valuable asset to his practice as well.
"I realized—assuming all other things are equal—people will choose to do business with companies that align with their values," explained Dr. Spittle. "I can set myself apart from the practice down the street."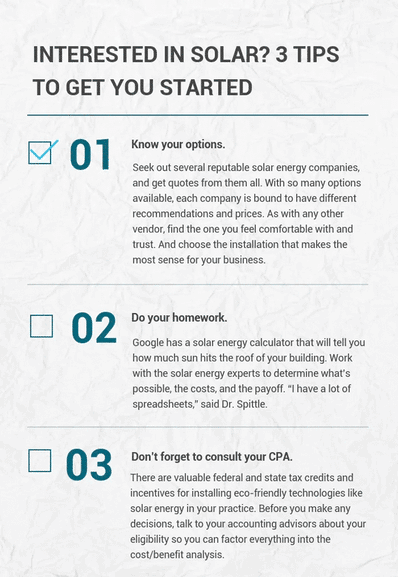 Upon returning from Central America, Dr. Spittle and his wife, Norma Spittle, OD, implemented sweeping changes at their practice. First, they started with simple measures, like replacing paper towels with energy-efficient hand dryers in the bathrooms, which not only cuts down on waste but saves the practice approximately $500 per year per hand dryer. The practice has signs hanging over the dryers that explain that using them reduces the carbon footprint of washing your hands by 80%.
The Spittles also stepped up their efforts in recycling, adding bins in the front of the office for patients to drop off contact lenses and old frames for recycling. Exam rooms also feature recycling bins for trial lenses and blisters. In the break room, they added a bin for recycling plastic bags brought in by employees. And every new frame comes in a zippered plastic bag, so they have a bin to collect those in their lab as well.
"As a practice, we now recycle more than we throw away," said Dr. Spittle.
The Spittles' most significant move, however, was the decision to add solar panels on the roof of their building. After receiving several quotes and weathering a COVID-related delay, the panels were installed last summer.
Dr. Spittle said the overall investment was approximately $132,000, but the panels made the practice eligible for a $40,000 tax credit and $25,000 in depreciation charges. In the end, the net bill was reduced to about $65,000, and the solar energy produced saves The Eye Place approximately $800 per month on its electricity bills.
"There are many different panel options and sizes, and the companies you work with can help you determine how much electricity you can generate. It's important to find the balance between your investment and the payoff," said Dr. Spittle.
In just nine months since installation, the panels have saved nearly 92,000 pounds of carbon monoxide emissions from entering the environment—the equivalent of planting more than 690 trees.
As a business owner, Dr. Spittle is among the early adopters of solar energy, but he is certainly not alone—and it's expected that there will be many more to follow. According to the Center for Climate and Energy Solutions, solar energy generation is projected to climb from 11% of total U.S. renewable generation in 2017 to 48% by 2050, making it the fastest-growing electricity source5. In some areas, solar (and wind) energy can be purchased, just as would be done with "normal" electricity.
Since "going green," the Spittles and their staff have made an effort to make sustainability a part of the patient experience.
"As optometrists, we have so much to talk to our patients about—and not enough time to do it. But we fit in quick mentions of sustainability here and there," said Dr. Spittle. "For example, when they open trial lenses, we'll ask them not to throw the packaging or lenses in the trash because we recycle them. We also plan to add 'powered by solar' language on patient forms and signage. In marketing our sustainability practices, the goal is to change the depth of the relationship with our patients."
Although it can be overwhelming to initiate this level of change when there are so many other competing priorities, Dr. Spittle says it doesn't have to happen all at once.
"Start somewhere—something is better than nothing," he said. "Operating more sustainably is good for your business. Your efforts will resonate very strongly with some of your patients, and those people are enthusiastic and will tell others about your practice."
1 Inside Climate News 2021. https://insideclimatenews.org/news/01012021/covid-climate-parallels-denial/
2 The Global Energy Perspective 2021, McKinsey & Company. https://www.mckinsey.com/industries/oil-and-gas/our-insights/global-energy-perspective-2021  
3 Our World in Data 2020. https://ourworldindata.org/cheap-renewables-growth  
4 The Recycling Partnership 2020. https://recyclingpartnership.org/americas-prefer-sustainable-companies/
5 Center for Climate and Energy Solutions 2020. https://www.c2es.org/content/renewable-energy/#:~:text=Solar%20generation%20(including%20distributed)%20is,from%20hydropower%20(16%20percent).