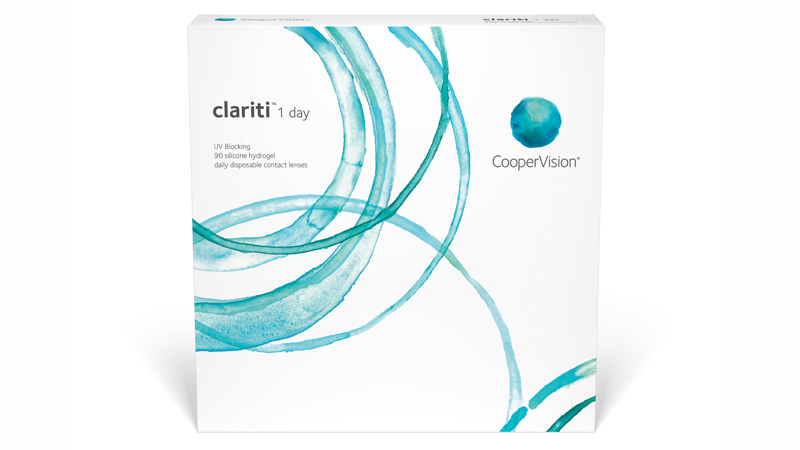 Product specs
Features
Vision correction for myopia and hyperopia
Silicone hydrogel material
Supports excellent all-day comfort
UVA and UVB protection*
Daily replacement lenses
Upgrade your patients to silicone hydrogel. It's the right fit for comfort, sharp vision and ocular health. 
Silicone hydrogel: the healthier** alternative to hydrogel 1-day lenses
You know the advantages of silicone hydrogel contact lenses for ocular health. Now your hydrogel-wearing patients can know them, too. CooperVision® clariti® 1 day lenses make upgrading your patients to SiHy easy.
 
Because silicone hydrogel lens material allows more oxygen to pass through to the cornea than hydrogel, your patients will appreciate the benefits of whiter eyes3 and a healthier** lens-wearing experience. The clariti 1 day lens allows 100% corneal oxygen consumption1. In fact, it provides up to 3x the Dk/t of some leading hydrogel 1-day lenses.2
Affordable innovation
clariti 1 day contact lenses provide silcone hydrogel at the price of conventional hydrogel lenses.
At CooperVision, we fundamentally believe that all eyes deserve the ocular health advantages of a silicone hydrogel lens. Using our latest contact lens manufacturing technology, we've developed a way to manufacture a silicone hydrogel 1-day at the cost of a hydrogel lens.
In addition, clariti 1 day contact leneses feature high water content (56%), UVA and UVB protection*, and a low modulus of 0.5 MPa, comparable with the most comfortable hydrogel lenses.
Talk to your patients about the healthy advantages, convenience, and affordability of clariti 1 day contact lenses, a complete, happy family of silicone hydrogel 1-day contact lenses.

*Warning: UV-absorbing contact lenses are not substitutes for protective UV-absorbing eyewear, such as UV-absorbing goggles or sunglasses, because they do not completely cover the eye and surrounding area. Patients should continue to use UV-absorbing eyewear as directed.
**With higher oxygen permeability than hydrogel materials, silicone hydrogel contact lenses minimize or eliminate hypoxia-related signs and symptoms during lens wear.
1.Brennan N.A. Beyond Flux: Total Corneal Oxygen Consumption as an Index of Corneal Oxygenation During Contact Lens Wear. Investigative Ophthalmology & Visual Science. 2005; 82:467–472.
2.Manufacturer reported Dk/t values: clariti 1 day: 86; 1-DAY ACUVUE® MOIST: 25.5; DAILIES® AquaComfort PLUSTM; 26.
3. Data on file; clariti® 1 day offers whiter eyes than 1-DAY ACUVUE® MOIST.
Product Details
Revenue carton size
90-pack and 30-pack blisters
Sphere power
-0.50D to -10.00D
+0.50D to +8.00D
(0.50D steps after +/-6.00D)
No Plano