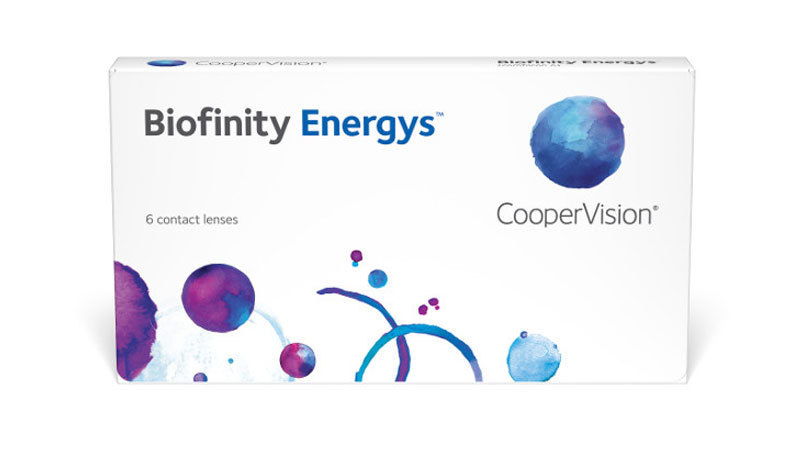 Product specs
Energize Your Practice – Prescribe the Contact Lenses Designed for Your Patients' Digital Lifestyles
Digital devices are an everyday part of life, but all that screen time takes a toll on your patients' eyes. Now there is Biofinity Energys®, the breakthrough contact lens made for today's digital lifestyles.
Biofinity Energys lenses feature Digital Zone Optics® lens design, which helps with eye tiredness caused by focusing on digital devices. Multiple front-surface aspheric curves distribute power evenly to simulate positive power across the entire optic zone, so wearers can change focus from on-screen to off-screen and back with less effort. This eases accommodative burden and may help reduce ciliary stress1. 
Biofinity Energys lenses also feature Aquaform® Technology. This technology attracts and binds water throughout the lens material to retain moisture – natural wettability that can help your eyes feel less dry.
Biofinity Energys lenses meet the same high-performance standards that have always defined the Biofinity® family of products, including an optimal balance of three essential elements: 
Optics
Surface design
Lens material
All the benefits of Biofinity lens in a lens that is ideal for both on-screen and off-screen activities
1Prospective, multi-center (9 sites), subject-masked, bilateral wear, cross-over, non-dispensing study comparing the difference of the change in AMF frequency measured by the Accommodative Function Analyzer instrument (AFA). Based on a statistically significant difference of the mean change of Accommodative Microfluctuations and when compared to Biofinity® sphere lenses after reading on an iPhone for 20 minutes held at a distance of 25 cm
Lens Technology
Product Details
Design
Aspheric Digital Zone Optics® lens design
Sphere power
+8.00D to -12.00D
(0.50D steps after +/-6.00D)