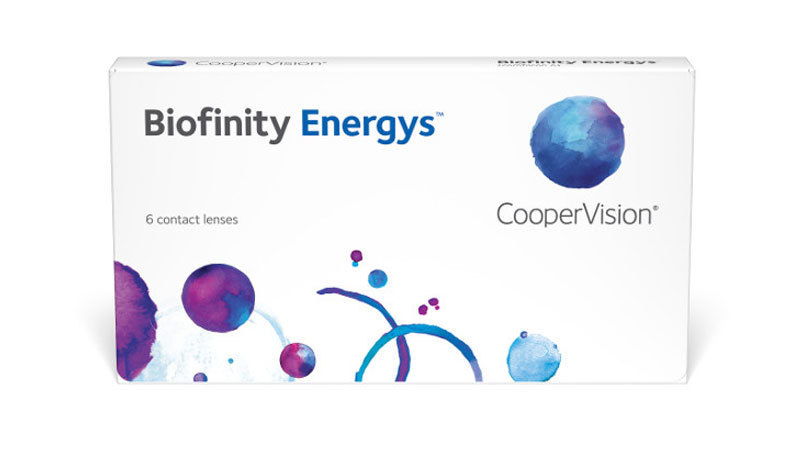 Product specs
Features
Helps with eye tiredness and dryness associated with digital eye strain
The spherical contact lens designed for an evolving world
Digital Zone Optics® lens design helps ease ciliary muscle stress and accommodative burden so wearers can shift focus from on-screen to off-screen with less effort2
There's never been a better time to talk to your patients about Biofinity Energys®
Digital devices have become more widely adopted—your patients rely on them to stay connected, productive, educated, and entertained.
Now's the time to uniquely position your practice with Biofinity Energys, the evolution of Biofinity® sphere, which combines natural wettability with an innovative lens design to help with eye tiredness and dryness, two key symptoms commonly associated with digital eye strain.
Give your patients a better lens-wearing experience by helping them with symptoms of digital eye strain with Biofinity Energys.
1. Based on a statistically significant difference of the mean change in Accommodative Microfluctuations and when compared to Biofinity sphere after reading on an iPhone 5 for 20 minutes held at a distance of 25 cm. REF: Kajita M et al. Changes in accommodative micro-fluctuations after wearing contact lenses of different optical designs. Cont Lens Ant Eye (2020) In Press https://doi.org/10.1016/j.clae.2020.03.003
Lens Technology
Product Details
Design
Aspheric Digital Zone Optics® lens design
Sphere power
+8.00D to -12.00D
(0.50D steps after +/-6.00D)