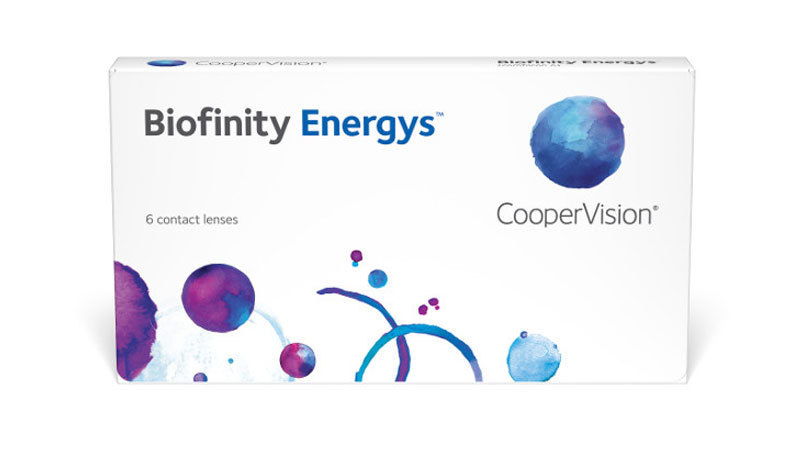 Product specs
Energize Your Practice – Prescribe the Contact Lenses Designed for Your Patients' Digital Lifestyles
Increased accommodative burden. Reduced blinking. Frequent changes of focal distance. Digital devices are an everyday part of life, but all that screen time takes a toll on your patients' eyes.
8 out of 10 digital device users* agreed that Biofinity Energys™ lenses with Digital Zone Optics® lens design made their eyes feel less tired.
Now there is the breakthrough of Biofinity Energys, the contact lens innovation made for today's digital lifestyles.
Biofinity Energys lenses feature Digital Zone Optics® lens design, which helps with eye tiredness caused by focusing on digital devices. Multiple front-surface aspheric curves are employed across the entire optic zone. These curves distribute power evenly to simulate positive power across the entire optic zone, so wearers can change focus from on-screen to off-screen and back with less effort. And it fits like a single-vision lens. 
Biofinity Energys lenses also feature Aquaform® Technology. This technology attracts and binds water throughout the lens material to retain moisture  – natural wettability that can help your eyes feel less dry. That's important because spending significant amounts of time staring at a screen causes blink rates to reduce, resulting in dry, itchy or burning eyes.
All the benefits of Biofinity®, now a lens Ideal for both on-screen and off-screen activities
Biofinity Energys lenses meet the same high-performance standards that have always defined the Biofinity family of products, including an optimal balance of three essential elements: 
Optics
Surface design
Lens material
9 out of 10 digital device users* agreed that Biofinity Energys lenses made their eyes feel good.**
Your patients' busy lives happen on-screen and off. Help them experience the contact lens designed for the way they live. Ask your CooperVision representative about new Biofinity Energys lenses.
*Among patients who use digital devices at least 4 hours per day at least 5 days per week and self-report symptoms of eye fatigue at least once per week.
**After 1 week of wear. Data on file.
Lens Technology
Product Details
Design
Aspheric Digital Zone Optics® lens design
Sphere power
+8.00D to -12.00D
(0.50D steps after +/-6.00D)