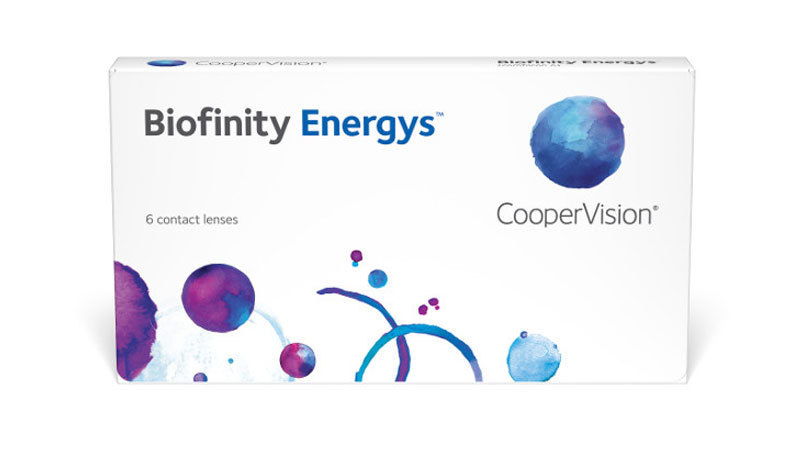 Product specs
Features
Helps with eye tiredness and dryness associated with digital eye strain
The spherical contact lens designed for an evolving world
DigitalBoost™ an innovative single vision aspheric lens design that delivers a +0.3D digital boost, which helps reduce eye tiredness associated with digital eye strain.
For every Biofinity®* lens you fit, we partner with Plastic Bank® to collect and convert an equal amount† of plastic, which means the entire Biofinity® portfolio is now net plastic neutral2
Learn more about our commitment to sustainability.
There's never been a better time to talk to your patients about Biofinity Energys®
Digital devices have become more widely adopted—your patients rely on them to stay connected, productive, educated, and entertained.
Now's the time to uniquely position your practice with Biofinity Energys, the evolution of Biofinity® sphere, which combines natural wettability with an innovative lens design to help with eye tiredness and dryness, two key symptoms commonly associated with digital eye strain.
Give your patients a better lens-wearing experience by helping them with symptoms of digital eye strain with Biofinity Energys.
Lens Technology
Product Details
Technology
Aspheric DigitalBoost™ lens design
Sphere power
+8.00D to -12.00D
(0.50D steps after +/-6.00D)
* Biofinity® is defined as orders and includes Biofinity® sphere, Biofinity Energys®, Biofinity® toric, Biofinity® multifocal, Biofinity® XR, Biofinity® XR toric and Biofinity® toric multifocal products sold and distributed by CooperVision in the US.  
† Amount is defined as weight. Net plastic neutrality is established by purchasing credits from Plastic Bank®. A credit represents the collection and conversion of one kilogram of plastic that may reach or be destined for waterways. CooperVision purchases credits equal to the weight of plastic in Biofinity® orders in a specified time period. Biofinity® plastic is determined by the weight of plastic in the blister, the lens, and the secondary package, including laminates, adhesives, and auxiliary inputs (e.g. ink).
1. Based on a statistically significant difference of the mean change in Accommodative Microfluctuations and when compared to Biofinity sphere after reading on an iPhone 5 for 20 minutes held at a distance of 25 cm. REF: Kajita M et al. Changes in accommodative micro-fluctuations after wearing contact lenses of different optical designs. Cont Lens Ant Eye (2020) In Press https://doi.org/10.1016/j.clae.2020.03.003.
2. CVI Data on file, 2022