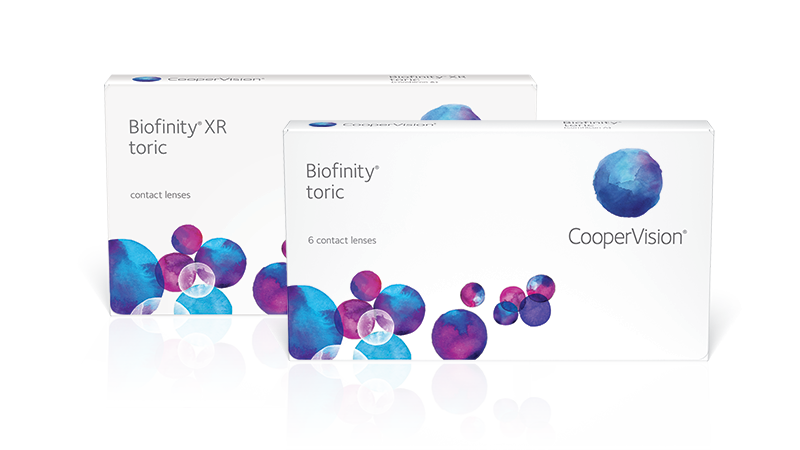 Product specs
Features
#1, most prescribed toric lens on the market1
Lenses for virtually any astigmatic patient who wants proven performance2 and extended-parameter options
Predictable, consistent visual acuity and lens stability
Uniform horizontal ISO thickness and wide ballast band quickly orient the lens for better performance and simple fitting
CooperVision is #1 in the US for toric contact lenses3 and rated as being the experts in toric designs from eye care professionals,4 so it's no surprise that Biofinity® toric is the most prescribed toric lens.1 Optimized Toric Lens Geometry™ provides predictable, consistent visual acuity, lens stability, fit, and comfort.
Biofinity® toric has more prescription options than all other monthly replacement SiHy toric brands combined.5 And thanks to nearly 33,000 parameter options with Biofinity XR toric, you can provide vision correction for 99.9% of your patients with astigmatism.6
More efficient fitting7,8 = reduced chair time
8

.

OptiExpert™ is an essential tool for your practice, designed to speed up contact lens selection7,8 and save you valuable chair time on toric and multifocal fittings.9,8

Download the next generation OptiExpert™. Available on the App Store, Google Play and Web.
Lens Technology
Product Details
Design
Optimized Toric Lens Geometry™
Sphere power
+8.00D to -10.00D
(0.50D steps after +/-6.00D)
+8.50D to +20.00D and -10.50D to -20.00D
(0.50D steps)
+20.00D to -20.00D (0.50D steps after +/-6.00D)
Cylinder power
-0.75, -1.25, -1.75, -2.25
-0.75, -1.25, -1.75, -2.25
-2.75, -3.25, -3.75, -4.25, -4.75, -5.25, -5.75
Axis
10° to 180° (10° steps)
5° to 180° (5° steps)
5° to 180° (in 5° steps)
Wearing schedule
Daily or 6 nights / 7 days Extended