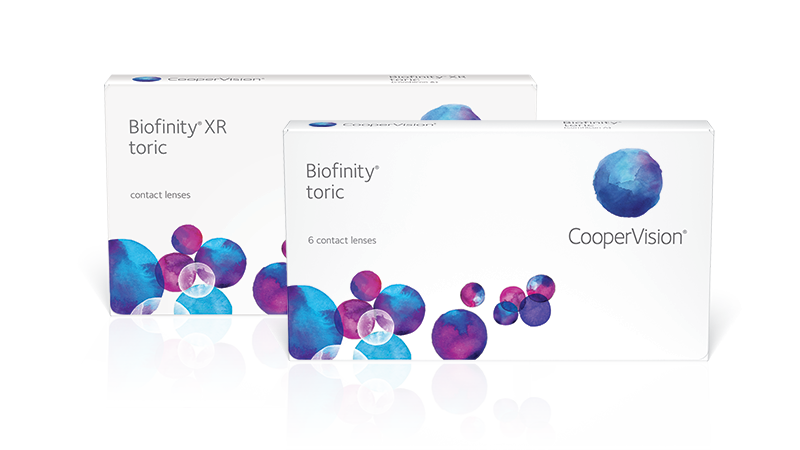 Product specs
Features
#1, most prescribed toric lens on the market1
Lenses for virtually any astigmatic patient who wants proven performance and extended-parameter options
Predictable, consistent visual acuity and lens stability
Uniform horizontal ISO thickness and wide ballast band quickly orient the lens for better performance and simple fitting
For every Biofinity®* lens you fit, we partner with Plastic Bank® to collect and convert an equal amount† of plastic, which means the entire Biofinity® portfolio is now net plastic neutral2.
Learn more about our commitment to sustainability.
CooperVision is #1 in the US for toric contact lenses and rated as being the experts in toric designs from eye care professionals, so it's no surprise that Biofinity® toric is the most prescribed toric lens1. Optimized Toric Lens Geometry™ provides predictable, consistent visual acuity, lens stability, fit, and comfort.
Biofinity® toric has more prescription options than all other monthly replacement SiHy toric brands combined. And thanks to nearly 33,000 parameter options with Biofinity XR toric, you can provide vision correction for 99.9% of your patients with astigmatism.
More efficient fitting3,4 = reduced chair time5.
OptiExpert™ is an essential tool for your practice, designed to speed up contact lens selection3,4 and save you valuable chair time on toric and multifocal fittings.4,5
Download the next generation OptiExpert™. Available on the App Store, Google Play and Web.
Lens Technology
Product Details
Technology
Optimized Toric Lens Geometry™
Sphere power
+8.00D to -10.00D
(0.50D steps after +/-6.00D)
+8.50D to +20.00D and -10.50D to -20.00D
(0.50D steps)
+20.00D to -20.00D (0.50D steps after +/-6.00D)
Cylinder power
-0.75, -1.25, -1.75, -2.25
-0.75, -1.25, -1.75, -2.25
-2.75, -3.25, -3.75, -4.25, -4.75, -5.25, -5.75
Axis
10° to 180° (10° steps)
5° to 180° (5° steps)
5° to 180° (in 5° steps)
Wearing schedule
Daily or 6 nights / 7 days Extended
* Biofinity® is defined as orders and includes Biofinity® sphere, Biofinity Energys®, Biofinity® toric, Biofinity® multifocal, Biofinity® XR, Biofinity® XR toric and Biofinity® toric multifocal products sold and distributed by CooperVision in the US.
† Amount is defined as weight. Net plastic neutrality is established by purchasing credits from Plastic Bank®. A credit represents the collection and conversion of one kilogram of plastic that may reach or be destined for waterways. CooperVision purchases credits equal to the weight of plastic in Biofinity® orders in a specified time period. Biofinity® plastic is determined by the weight of plastic in the blister, the lens, and the secondary package, including laminates, adhesives, and auxiliary inputs (e.g. ink).
1. CVI data on file, 2019. US industry reports and internal estimates.
2. CVI Data on file, 2022.
3. Based on use with Biofinity® toric, MyDay® toric and clariti® 1 day toric lenses.
4. Luensmann D et al. Toric lens fitting success supported by an online fitting App. Poster to be presented at NCC/BCLA 2020.
5. CVI data on file 2019. Retrospective analysis; N=55 subjects (110 eyes); DV Rx +1.25D to -3.25D, add powers +1.25 to +2.50DS.