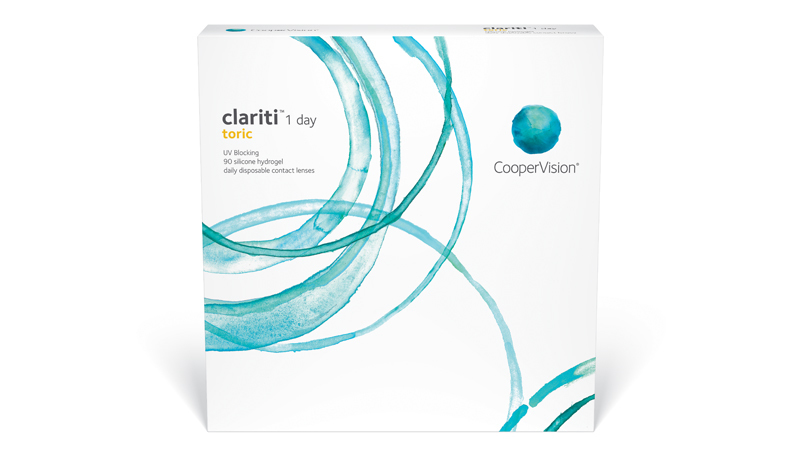 Product specs
Features
Vision correction for astigmatism
Silicone hydrogel material
Supports excellent all-day comfort
UVA and UVB protection*
Daily replacement lenses
Upgrade your astigmatic patients to SiHy. It's the right fit for comfort, sharp vision and ocular health. 
Healthier** advantages of silicone hydrogel in an award-winning lens
Now your astigmatic patients can enjoy all the convenience of a 1-day lens and the healthier** advantages of silicone hydrogel in one lens—clariti® 1 day toric contact lenses from CooperVision. For your patients, silicone hydrogel means whiter eyes2 and a healthier** lens-wearing experience.
 
The clariti 1 day lens allows 100% corneal oxygen consumption3. In fact, it provides up to 3x the Dk/t of some hydrogel 1-day toric lenses4.
Wide 1-day toric power range
With 1,590 power combinations, clariti 1 day toric contact lenses cover 85% of prescriptions5, allowing you to fit more patients and expand what your practice has to offer.
Talk to your astigmatic patients about the healthy advantages and convenience of clariti 1 day toric contact lenses.  
*Warning: UV-absorbing contact lenses are not substitutes for protective UV-absorbing eyewear, such as UV-absorbing goggles or sunglasses, because they do not completely cover the eye and surrounding area. Patients should continue to use UV-absorbing eyewear as directed.

**With higher oxygen permeability than hydrogel materials, silicone hydrogel contact lenses minimize or eliminate hypoxia-related signs and symptoms during lens wear.


2. Data on file; clariti 1 day offers whiter eyes than 1-DAY ACUVUE® MOIST.
3. Brennan N.A. Beyond Flux: Total Corneal Oxygen Consumption as an Index of Corneal Oxygenation During Contact Lens Wear. Investigative Ophthalmology & Visual Science. 2005; 82:467–472.
4.Manufacturer reported Dk/t values: clariti 1 day toric lenses: 57; 1-DAY ACUVUE® MOIST for Astigmatism: 23.7; DAILIES® AquaComfort PLUSTM toric: 26; SofLens® daily disposable toric: 17.6.
5. Young G, Sulley A, Hunt C. Prevalence of astigmatism in relation to soft contact lens fitting. Eye Contact Lens 2011;37(1):20-25.4.
Product Details
Sphere power
Plano to - 9.00D
(0.50D steps after -6.00D)
+0.25D to +4.00D
(0.25D steps)
Plano to -9.00D
(0.50D steps after -6.00D)
Cylinder power
-0.75, -1.25, -1.75
-0.75, -1.25, -1.75
-2.25
Axis
10°, 20°, 60°, 70°, 80°, 90°, 100°, 110°, 120°, 160°, 170°, 180°
20°, 70°, 90°, 110°, 160°, 180°
10°, 20°, 90°, 160°, 170°, 180°