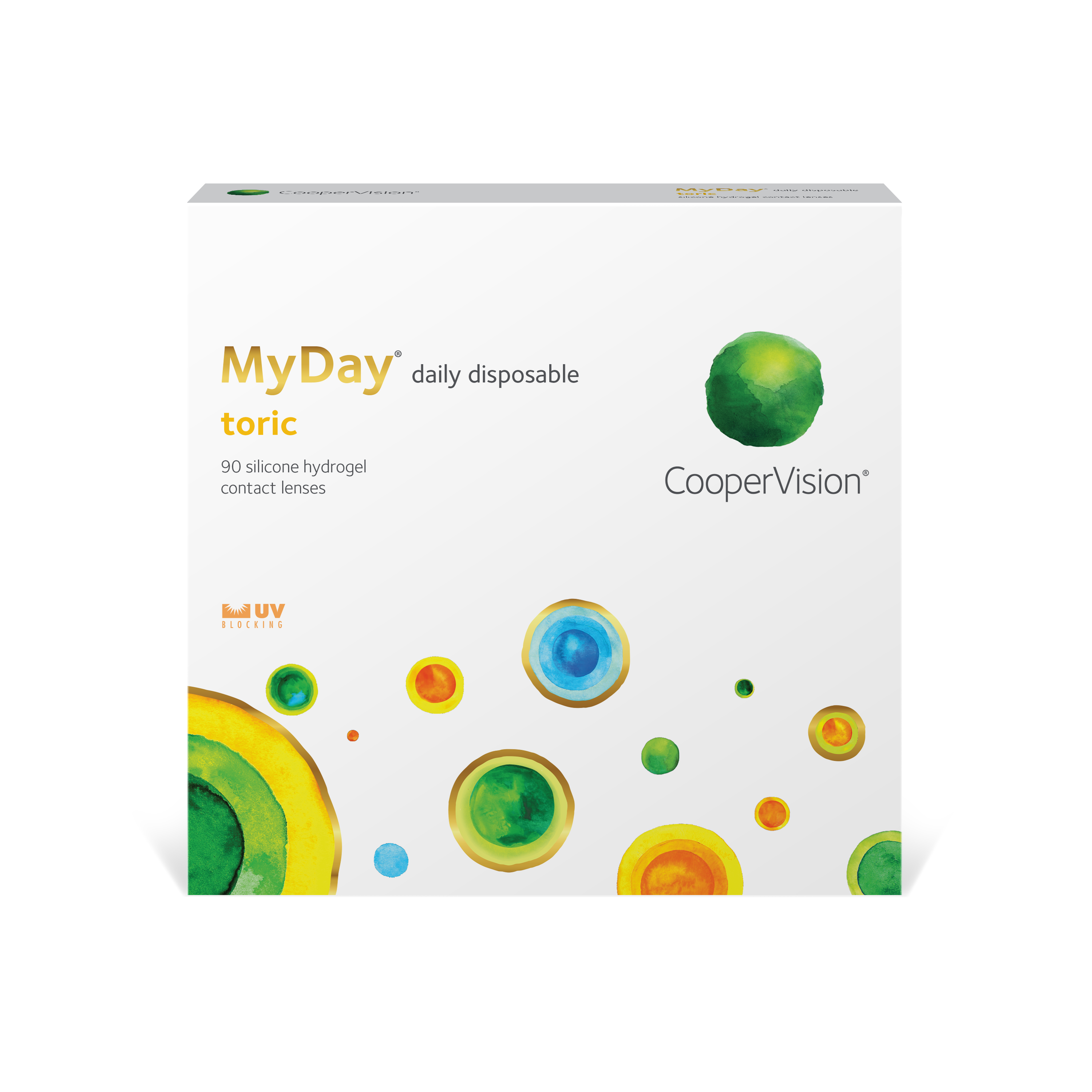 Product specs
Features
Biofinity® toric optical design features in a 1-day lens
3rd generation silicone hydrogel material for a high performing, comfortable lens
Up to 4x Dk/t of a hydrogel 1-day lens for higher oxygen transmissibility
Our highest UVA/UVB* blockers
Benefits of Biofinity® toric replicated in a 1-day lens.
Proven toric lens design, with the same optical design features found in Biofinity toric.
MyDay toric features Optimized Toric Lens Geometry™, resulting in a toric lens designed to provide predictable, consistent visual acuity, superior lens stability, fit and comfort.1
Uncompromised chemistry.
MyDay daily disposable lenses also feature Aquaform® Technology, which provides a unique balance of high oxygen permeability, high water content and optimum modulus for a soft and flexible lens. These features deliver the unsurpassed comfort, softness, and superb handling that patients love.2
1. Hamed Momeni-Moghaddam et al. Comparison of fitting stability of the different soft toric contact lenses. Cont Lens Anterior Eye. 2014; 37(5):346-350. 2. Stifel (equity research firm) 2013, 21 UK practitioners surveyed comparing performance of MyDay with other silicone hydrogel daily disposables * Warning: UV-absorbing contact lenses are not substitutes for protective UV-absorbing eyewear, such as UV-absorbing goggles or sunglasses, because they do not completely cover the eye and surrounding area. Patients should continue to use UV-absorbing eyewear as directed.
Lens Technology
Product Details
Design
Optimized Toric Lens Geometry™
Sphere power
Plano to -6.00D
(0.25D steps)

Plano to -6.00D
(0.25D steps)
-6.50D to -10.00D
(0.50D steps)
+0.50D to +6.00D
(0.50D steps)
-6.50D to -10.00D
(0.50D steps)
+0.25D to +6.00D
(0.25D steps)
Cylinder power
-0.75, -1.25, -1.75
-2.25
-0.75, -1.25, -1.75
Axis
Full circle in 10˚ steps
10˚, 20˚, 90˚, 160˚, 170˚, 180˚
10˚, 20˚, 70˚, 80˚, 90˚, 100˚, 110˚, 160˚, 170˚, 180˚