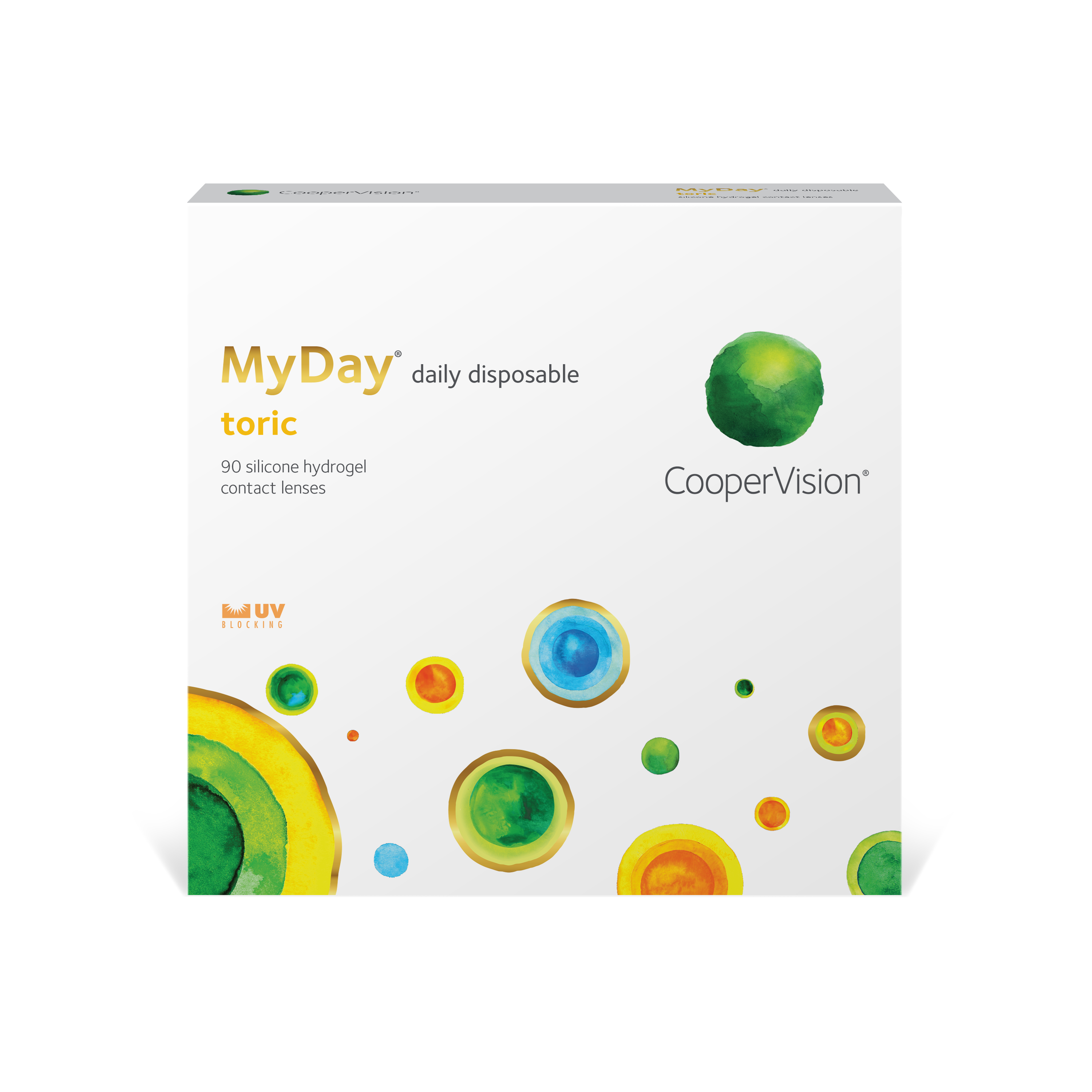 Product specs
MyDay® toric
Isn't victory sweet? And with MyDay® toric's innovative technology1, backed by a legacy of expert design2, you and your patients will be winning a lot. When you prescribe MyDay toric for your patients, you'll make their day.
Features
MyDay toric now matches Biofinity toric's parameter range 100%
The same optical design features of Biofinity® toric - the #1 most prescribed toric lens on the market3
MyDay toric has the most prescription options of any 1-day lens4
Naturally wettable silicone hydrogel material for a high performing, comfortable lens
Unbeatable design
Optimized Toric Lens Geometry™
Features the same optical lens design features as Biofinity® toric–the most prescribed monthly replacement toric lens on the market*3.
This toric lens design is multifaceted to ensure optimal visual acuity, lens stability, fit and comfort. Its uniform horizontal ISO thickness and wide ballast band quickly orient the lens for better performance and simple fitting.
Unsurpassed comfort2*5
Featuring the same Aquaform® Technology as Biofinity® toric, MyDay® daily disposable toric lenses provide the natural wettability that supports an incredibly comfortable lens-wearing experience.
The Sustainable Advantage
High performance meets environmental friendliness. For every MyDay lens you fit, we partner with Plastic Bank® to collect and convert an equal amount7 of plastic, which means MyDay's entire portfolio is now net plastic neutral7,8. Learn more.
Fitting Advantage
Toric contact lens fitting is made easy, fast and accurate, thanks to the OptiExpert™ Contact Lens Calculator10. Download now from the App store, Google Play or at GetOptiExpert.com.
Satisfaction Guaranteed
When you prescribe the MyDay family of lenses, we're confident your patients will love them, but if they aren't 100% happy, we'll make it right—for you and for them. With our Simply Satisfied Guarantee™ Program, your patients' satisfaction is our guarantee. Learn more.
Product Details
Technology
Optimized Toric Lens Geometry™
Sphere power
+8.00D to -10.00D (0.50D steps after +/- 6.00D)

Cylinder power
-0.75, -1.25, -1.75, -2.25
1. CVI data on file 2020. Kubic Online Survey of ECPs in US, Germany, Spain, Japan and South Korea. Total weighted sample n = 549. Significantly higher than Johnson & Johnson Vision, Alcon and Bausch + Lomb; p<0.05.
2. CVI data on file, 2020. Kubic masked online survey; n=404 US ODs who prescribe toric soft contact lenses.
3. CVI data on file, 2021. US industry reports and internal estimates.
4. CVI data on file, 2021. Based on number of prescription options available in the USA across all soft 1-day toric lenses as reported by the 4 main manufacturers.
5. CVI data on file, 2013, 2015 & 2017. MyDay® clinical studies 1-week DW compared to 1-DAY ACUVUE® MOIST, DAILIES TOTAL1® and ACUVUE® OASYS 1-Day.
6. Stifel (equity research firm) 2013, 21 UK practitioners surveyed comparing performance of MyDay with other silicone hydrogel daily disposables.
7. Amount is defined as weight. Net plastic neutrality is established by purchasing credits from Plastic Bank. A credit represents the collection and conversion of one kilogram of plastic that may reach or be destined for waterways. CooperVision purchases credits equal to the weight of plastic in MyDay® daily disposable orders in a specified time period. MyDay® daily disposable plastic is determined by the weight of plastic in the blister, the lens, and the secondary package, including laminates, adhesives, and auxiliary inputs (e.g. ink).
8. MyDay® daily disposable is defined as orders and includes MyDay® daily disposable, MyDay® daily disposable toric, MyDay® daily disposable multifocal product sold and distributed by CooperVision in the US.   .
9. CVI Data on file, 2022.
10. Luensmann D et al. Toric lens fitting success supported by an online fitting App. Poster to be presented at NCC/BCLA 2020.
* CVI SiHy toric products with Optimized Toric Lens Geometry™ are compared individually to at least one of the listed products as follows: Biofinity® toric and Avaira Vitality® toric vs. Acuvue Oasys for Astigmatism, Acuvue Vita for Astigmatism, Air Optix for Astigmatism and Ultra for Astigmatism; MyDay® toric vs. 1-Day Acuvue Moist for Astigmatism.
**Warning: UV-absorbing contact lenses are not substitutes for protective UV-absorbing eyewear, such as UV-absorbing goggles or sunglasses, because they do not completely cover the eye and surrounding area. Patients should continue to use UV-absorbing eyewear as directed.
† Based on use with Biofinity® toric, MyDay® toric and clariti® 1 day toric lenses.