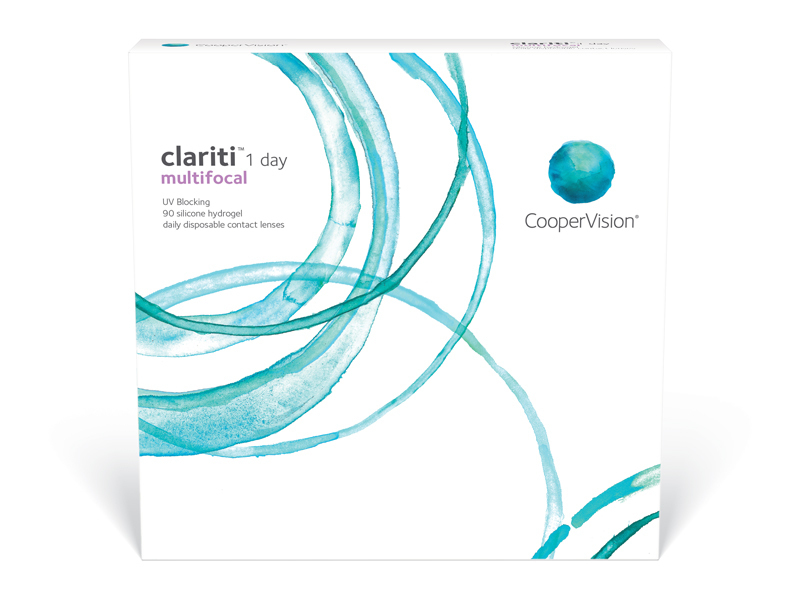 Product specs
Features
Vision correction for presbyopia
Silicone hydrogel material
Supports excellent all-day comfort
UVA and UVB protection*
Daily replacement lenses
Sustainably made and net plastic neutral
the SiHy 1-day contact lens made for presbyopia—and supporting net plastic neutrality1  
Good for your patients and good for the planet
Here's another reason why you should consider fitting your presbyopic patients with clariti® 1 day multifocal: it's the first net plastic neutral contact lens in the U.S..1 By simply prescribing clariti 1 day multifocal, you and your patients are making an impact. For every clariti 1 day contact lens we sell, we purchase a credit from our partner Plastic Bank to collect and convert an equal amount1 of plastic through their global network. This initiative automatically accounts for and offsets the weight of plastic in each box of clariti 1 day distributed in the U.S.. This includes not only the plastic in the lens itself, but also the blister, adhesive, and packaging laminates, and even the plastics in the ink printed on the boxes. 
Questions? Visit our FAQs.
1-day convenience, the ocular health benefits of silicone hydrogel2, and peace of mind
Now your patients with presbyopia can enjoy all the convenience of a 1-day lens and 90% of ECPs agreed that silicone hydrogel is the healthiest lens material for daily disposable patients3 —clariti 1 day multifocal contact lenses from CooperVision is the ideal entry-level 1-day lens for your presbyopic patients. 
For your patients, silicone hydrogel means whiter eyes4. The clariti 1 day lens allows 100% corneal oxygen consumption5. In fact, it provides the recommended amount of oxygen5 across the entire lens surface to help maintain ocular health. 
And for your practice, clariti 1 day multifocal contact lenses let you expand what you have to offer patients.
Simple + fast
clariti 1 day multifocal contact lenses take only 5 minutes (total chair time) longer to fit than clariti 1 day sphere6.
Also, clariti 1 day multifocal contact lenses provide a low add profile for early/medium presbyopes and a high add profile for higher presbyopes. This is the perfect opportunity to grow your contact lens practice and overall business.
OptiExpert™ is a free, multifunctional app that helps minimize chair time and maximize patient satisfaction with easy-to-use Multifocal and Toric Calculators and Oxygen Profiles.
Available on the App Store, Google Play and Web.
Talk to your presbyopic patients about the healthy ocular advantages and convenience of clariti 1 day multifocal contact lenses.
Join us on this journey
Our plastic neutral approach is an easy way for you and your patients to be more sustainable. By simply fitting clariti 1 day lenses on your patients, you're making an impact.
Product Details
Design
center near, progressive intermediate and peripheral distance
Sphere power
+5.00D to -6.00D
(0.25D steps)
Add power
Low: up to +2.25D
High: +2.50D to +3.00D
* Warning: UV-absorbing contact lenses are not substitutes for protective UV-absorbing eyewear, such as UV-absorbing goggles or sunglasses, because they do not completely cover the eye and surrounding area. Patients should continue to use UV-absorbing eyewear as directed.
clariti® 1 day is defined as orders and includes clariti® 1 day sphere, clariti® 1 day toric, and  clariti® 1 day multifocal product sold & distributed by CooperVision in the US.  Amount is defined as weight. Net plastic neutrality is established by purchasing credits from Plastic Bank. A credit represents the collection and conversion of one kilogram of plastic that may reach or be destined for waterways. CooperVision purchases credits equal to the weight of plastic in clariti® 1 day orders in a specified time period.  clariti® 1 day plastic is determined by the weight of plastic in the blister, the lens, and the secondary package, including laminates, adhesives, and auxiliary inputs (e.g. ink).  CVI data on file 2020. Sustainability report, clariti® 1 day in US.
With higher oxygen delivery than hydrogel materials, SiHy materials minimize or eliminate hypoxia-related complications during daily wear.
Orsborn G, Dumbleton K. Eye Care Professionals' Perceptions of the Benefits of Daily Disposable Silicone Hydrogel Contact Lenses, Contact Lens and Anterior Eye; 42 (2019) 4:373-379. CVI data on file 2018. Survey results of ECPs in US, UK and Japan, n=300.
Data on file, CooperVision; clariti® 1 day offers whiter eyes than 1-DAY ACUVUE® MOIST®.
Brennan NA. Beyond Flux: Total Corneal Oxygen Consumption as an Index of Corneal Oxygenation During Contact Lens Wear. Optom Vis Sci. 2005;82(6):467-472. 
CVI data on file 2013. Fitting assessment of c1dMF (n=22) and c1d (n=15) at 5 UK sites.