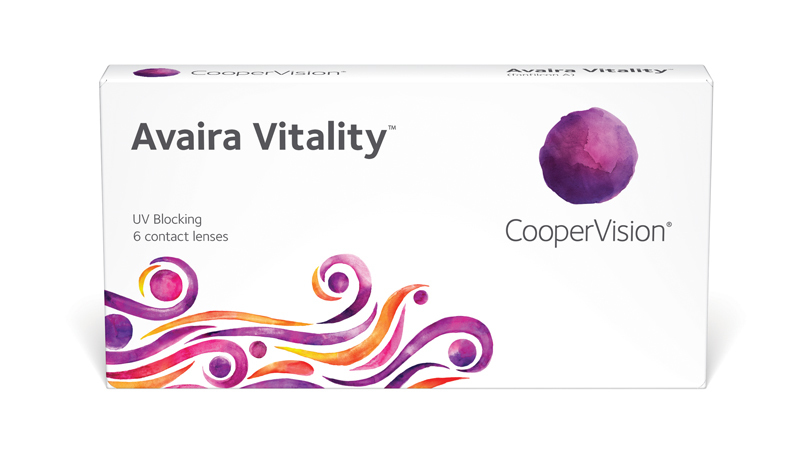 Product specs
Features
Class 1 UV filter1
Long-lasting comfort
Advanced 3rd generation SiHy technology
Easy handling
For patients seeking comfort and value, introduce them to a lens that delivers both, Avaira Vitality™.
Avaira Vitality™ contact lenses provide clear, crisp vision using the same proven optical design features employed by world-renowned Biofinity® contact lenses. With its convenient 2-week replacement schedule and soft, flexible material, Avaira Vitality contact lenses are just what your patients need.
Class 1 UV protection
Ultraviolet radiation can be harmful to eyes, with the potential to cause cataracts and other damage2. The Class 1 UV blocker1 in Avaira Vitality contact lenses provides the highest level of UV protection available in contact lenses. That's added peace-of-mind UV protection for your patients' eyes.
3rd Generation Silicone Hydrogel Material
Avaira Vitality contact lenses are made with highly breathable silicone hydrogel material providing your patients with the healthier lens wearing experience3 they deserve. The lens achieves high Dk (90) with only 4.7% silicone content—the lowest silicone content of any 2-week SiHy contact lens, allowing more room for water (55%) and hydrophilic components. Evenly spread throughout the lens, these components keep the entire lens surface continuously moist throughout the day.
Long-lasting comfort
Avaira Vitality contact lenses provide the long-lasting comfort your patients demand—thanks to natural wettability, high water content, and low modulus.
1. Available in a contact lens. Warning: UV-absorbing contact lenses are not substitutes for protective UV-absorbing eyewear, such as UV-absorbing goggles or sunglasses, because they do not completely cover the eye and surrounding area. Patients should continue to use UV-absorbing eyewear as directed.
2. American Optometric Association. UV Protection with Contact Lenses. 2017.
3. With higher oxygen permeability than hydrogel lenses, silicone hydrogel contact lenses minimize or eliminate hypoxia-related signs and symptoms during lens wear.
Lens Technology
Product Details
Sphere power
+8.00D to -12.00D
(0.50D steps after +/- 6.00D)
No Plano