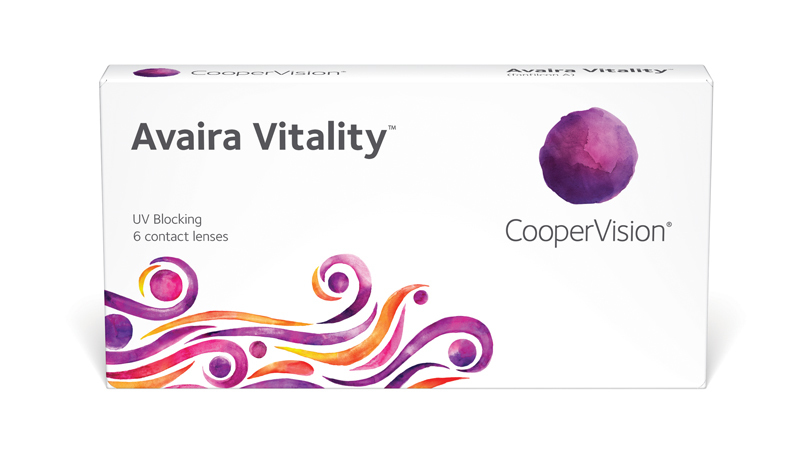 Product specs
Features
Class 1 UV filter4
Enhanced with higher water content
Superior, long-lasting comfort1,2
Superior vision quality,1,3 less dryness and easier handling2
With its convenient 2-week replacement schedule and soft, flexible material, superior1 Avaira Vitality™ contact lenses can be a great fit for a wide range of patients. Avaira Vitality lenses offer all the great benefits of Avaira® lenses and more with superior long-lasting comfort1,2 and vision quality1,3, plus higher water content and Class 1 UV protection4.  
An effortlessly superior1 lens that provides long-lasting comfort
Avaira Vitality 2-week contact lenses offer everything your patients love about Avaira lenses and more.
For comfort, vision quality and ease of handling, new Avaira Vitality lenses scored significantly higher than Avaira lenses for patient preference2 and overall is preferred 15 to 1.2 In fact, 94% of subjects said that they would likely switch from Avaira to Avaira Vitality.2 Plus, Avaira Vitality lenses come enhanced with higher water content and greater Class 1 UV protection.4
All this is available at the same affordable price as Avaira lenses.
Silicone hydrogel is the healthiest soft contact lens material5
The third generation of silicone hydrogel material used in Avaira Vitality is inherently wettable with no surface treatments, and uses naturally wettable building blocks to improve compatibility between silicone and hydrophilic domains. This, combined with the higher water content of Avaira Vitality lenses ensure a high performing, comfortable lens. hydrogel contact lenses minimize or eliminate hypoxia-related signs and symptoms during lens wear.
Class 1 UV protection4 for added peace of mind
Ultraviolet (UV) radiation can be harmful to eyes, with the potential to cause cataracts and other damage.6 That's why Avaira Vitality lenses offer Class 1 UV protection that blocks more than 90% UVA and 99% UVB4 offering greater protection for your patients' eyes. 
A seamless refit
Avaira Vitality contact lenses have excellent fitting characteristics, making refitting Avaira patients simply effortless with no additional chair time.
Offer your patients the excellent performance and superior comfort1 of Avaira Vitality contact lenses. The advantages are effortless.
1 When compared in a head-to-head study against Avaira® lenses.
2 After 2 and 4 weeks of wear. Data on file.
3 After 1, 2 and 4 weeks of wear. Data on file.
4 Warning: UV-absorbing contact lenses are not substitutes for protective UV-absorbing eyewear, such as UV- absorbing goggles or sunglasses, because they do not completely cover the eye and surrounding area. Patients should continue to use UV-absorbing eyewear as directed.
5 With higher oxygen permeability than hydrogel materials, silicone hydrogel contact lenses minimize or eliminate hypoxia-related signs and symptoms during lens wear.
6 http://www.aoa.org/patients-and-public/caring-for-your-vision/uv-protection/uv-protection-with-contact-lenses?sso=y
Product Details
Sphere power
+8.00D to -12.00D
(0.50D steps after +/- 6.00D)
No Plano