Here's to you…and your future. Being a CooperVision Best Practices honoree means more than just taking home a plaque. You become part of a family that has your back — a network of practitioners who share insights into their brilliance, a new avenue to build your practice via digital and public relations support, and a community of like-minded professionals eager to see you achieve even more success. Applications for the 2023 Best Practices program will be available in the Fall of 2023.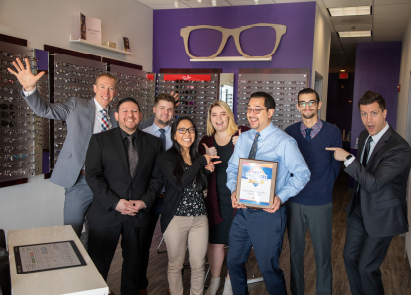 WHAT IS THE BEST PRACTICES PROGRAM?

The Best Practices Program recognizes and unites innovative practices and thought leaders from around the country to share what works for them...and what may work for you.

The Best Practices Program celebrates the innovative ways that U.S. optometric practices deliver exceptional patient care and advance the profession.

Being recognized by your peers as a Best Practice is a testament to the fact that no matter who you are or where you're located, you can offer patients an excellent eye care experience – and the way that is accomplished can vary greatly from practice to practice.
WHAT COMES WITH BEING A BEST PRACTICE HONOREE?
PEER COLLABORATION
You're given exclusive access to past honorees to pick their brains about how to grow your business. You learn key insider patient/practitioner relationship clues to not only strengthen your current patient relationships, but also build on what you've successfully established. And, of course, you get to share your wealth of knowledge and success with like-minded peers to ensure that their success continues.
BEST PRACTICES SUMMIT
This annual event, hosted by CooperVision, brings together the 2022 Best Practices honorees and leaders in the business to collaborate, knowledge share and listen to keynote speakers provide insights into innovation, change management and storytelling.
INDUSTRY & LOCAL RECOGNITION
Being a Best Practices honoree highlights your industry achievements by placing you on professional panels, showcasing your expertise to prominent eye care media and designating you as a representative of the program at industry events.
BEST PRACTICES HONOREES WILL BE RECOGNIZED SPECIFICALLY FOR THE ASPECTS OF OPTOMETRY THAT MAKE THEM STAND OUT FROM THE REST.
Does your practice excel in one or more of these areas?