Facebook business pages' main focus is fan engagement.  It is crucial that your practice's fan page is updated on a frequent basis with fresh, interesting, and engaging content.  Utilize your Facebook page as a way to create an online community – a place where patients, friends and family can connect openly, and learn more about your practice and the health of their eyes. 
How does Facebook determine which posts are displayed in the News Feed?
Facebook uses an algorithm to determine which profiles and pages' posts are shown in their friends and fans' News Feed.  The algorithm is called EdgeRank, an equation made up of three components: affinity, weight, and decay.  The higher your score, the more likely your posts show up in your fans' News Feed.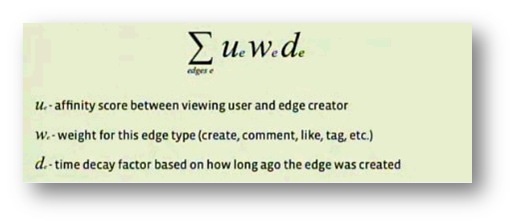 How do I get fans to interact with my page?
Most Facebook users do not revisit the page they "liked," unless they are directed by the page's post in their News Feed. This is another reason why keeping your page updated is your number one Facebook page priority. 
Here are some engagement strategies to keep in mind:
Know your audience – Utilize Facebook Insights, located on the left hand side of your fan page, to learn more about your fan base and to help target your audience.  What is the gender and age ratio?  Which posts have the most impressions?  (Example: 78% of your fan base is female – Make a post once per week specific to a female audience.)
Customization – Facebook enables applications to allow for custom landing tabs.  Landing tabs entice Facebook users to "like" your page, and help build your practice's brand.  Landing tabs use basic HTML coding.  We recommend Static HTML: iframe tab.
Valuable Content – A recent study showed that health care industry pages received the most Facebook interaction when posts were made on Thursdays in the early morning or evening.  To keep your posts spread throughout the week, we suggest posting early in the week (Monday), Thursdays, and one time during the weekend.  It's important to note, that although Facebook pages are intended to help grow your practice, all posts should not be about promoting your business.  Keep promotional posts limited to about 10% of your posts.  (Hint: Links to credible websites, articles and videos weigh heavier in Facebook's EdgeRank, than just plain text.)
Response Rate – If a fan comments on your page's post, respond back in a timely manner.  It's crucial to respond to a fan's question or comment; questions left unanswered may result in the loss of fans and page engagement.   
Pictures & Videos – Give your page a personal touch by adding photo albums of staff and the office.  Facebook users are more likely to interact with pictures and videos.  (Hint: Picture captions increase SEO.)
Get Creative – Use fill-in-the-blanks, create polls, ask questions, and post pictures of staff events to get your fans excited about your posts.
Run a Contest – Contests run through third-party applications, such as Wildfire, are a great way to get your fans interacting.  Be sure to read Facebook Promotions Guidelines to ensure you abide by all Facebook legal guidelines.
Keep it Simple – Posts with 80 characters or less have higher interaction rates.

Source Used: http://www.laurademeo.com/803/16-top-facebook-engagement-strategies/