Once you have created a Facebook Page for your practice, you can integrate that Page with your practice's website. Facebook has developed what's called a "social plugin" where you can install Facebook features onto your website such as a "like" button or a comment box. The great thing about social plugins is that your practice's name will show up in the newsfeed of virtually every Facebook Friend of whoever interacts with your website via a social plugin. The number of times your Facebook Page shows up in someone's newsfeed is called an impression, and this number is representative of your practice's online visibility. More impressions lead to more patients!
It works like this. Let's say you install a Facebook social plugin on your website.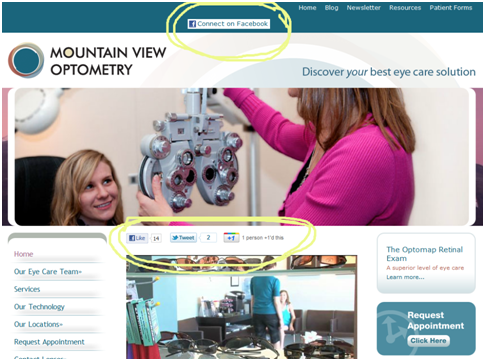 Every time someone finds your website by, say, a Google search, they can "like" your practice. When they click the "like" button on either your website or your Facebook Page, this information will show up on their profile page as well as in their friends' newsfeeds.

Each Facebook user has an average of 130 Facebook Friends. This means that each "like" your Facebook Page receives translates into a lot of exposure for your practice. Installing a Facebook social plugin on your website increases the likelihood of interaction with your Facebook Page.
Installing a Facebook plugin involves some coding and requires technical skill. Facebook provides instruction on their Developers website but you may consider hiring someone to help you do the installation. Some social plugins are easier to install than others—for example, inserting a "Connect with us on Facebook" button might be as simple as hyperlinking a Facebook icon to your Facebook page; whereas loading code linking your Facebook "likes" to your website's "likes" is more difficult. The website featured in the image above features both types of plugin.
Social plugins also exist for other social media sites such as Twitter and LinkedIn. Your practice will do very well to integrate all these sites in order to make engagement easy for patients and customers. For example, visitors to your website should be able to navigate to your Facebook; visitors to your Yelp profile should be able to easily navigate to your website; visitors to your LinkedIn company profile should be able to access your blog, and so on. Integration will be vital to your ability to effectively utilize each of your practice's social media channels.