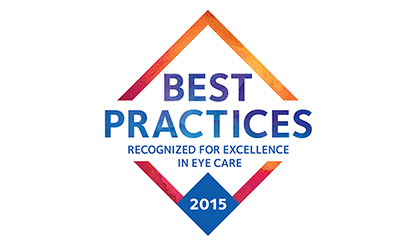 They are eye care practices—big and small, new and established. They are run by practitioners from different walks of life. They are leaders in optometry, those who go above and beyond to find ways to differentiate their practices and deliver exceptional care to their patients, even in the face of increasing competition.
They are the 2015 Best Practices, unveiled recently by CooperVision, Inc.
This inaugural class of 10 honorees was chosen after a nationwide search for eye care practices that thrive, to recognize and celebrate visionary, innovative and even unexpected aspects of care delivery that best serve patients and elevate the profession. This year's honorees are:
Advanced Eye Care Professionals, P.C. – Oak Lawn, Ill.
Casey Hogan, OD, established Advanced Eye Care Professionals (AEP) in the Chicago suburbs in 2003. The practice has since expanded to a fully equipped, state-of-the-art 2,400 sq. ft. facility, employing three associate optometrists, one ICO Cornea/Contact Lens resident, and 10 employees. AEP operates under the mission "Our Community, Your Vision, Our Passion." Each doctor in the practice offers a unique set of skills to benefit patients, including family eye care, diagnostics and disease/surgical co-management, specialty contact lenses, anterior segment management, and dry eye therapeutic care. These clinical areas are actively marketed using innovative marketing strategies, including the utilization of three unique practice websites and two DBAs.

Coan Eye Care – Ocoee, Fl.
In practice since 2001, Coan Eye Care prides itself on being an early adopter of new technology. Examples include DNA and food sensitivity testing (epigenetics) for eye and overall health, the use of amniotic membranes for healing diseased corneas, and fitting specialty contact lenses including custom soft contact lenses, scleral lenses, hybrid lenses, gas permeables, and lenses for the control of myopia in children. Practice owner Roxanne Achong-Coan, OD, has marketed herself as a contact lens specialist to other optometrists, ophthalmologists, and primary care doctors by visiting their practices. As a result, she garners many referrals and even sees patients who drive in from other states to have her fit their irregular corneas. One of the practice's other two optometrists completed a residency in ocular disease at the Bascom Palmer Eye Institute, which helps to differentiate the practice even further via its focus on building expertise.

Eola Eyes – Orlando, Fl
Driven to provide the best care and products to patients, and determined to establish a business model that would support work-life balance, Kerry Giedd, OD, and Brighid Williams, OD, opened Eola Eyes in 2003. Passion for their patients, staff, and community has been key to the practice's success. The incorporation of modern technology—from electronic communications and social media to high-tech equipment, to the latest contact and spectacle lens options—has helped provide the best possible experience for patients. Unique employee benefits such as "Christmas in July," organic produce shares, and 100%paid healthcare premiums promote a positive culture and morale. Involvement in the community has also been a priority. Eola Eyes serves many organizations, including Florida's Vision Quest, the Foundation for Foster Children, and Zebra Coalition.

The Eye Doctors – Tampa, Fl.
The Eye Doctors is a multi-location, private optometry practice first established in 2007. The primary care offices include three doctors and 21 team members led by Samuel Teske, OD. While the practice strives to utilize the latest equipment, the highest quality eye care products, and many high-tech services, Dr. Teske credits their success to creating an "ownership attitude" with all employees by setting career plans and allowing autonomy within their work, which means that the power is in the hands of the staff. Patient education is another area of special focus—iPads are available in each exam room that contain videos for patients that provide relevant information on symptoms and planned procedures. The practice utilizes scribes to allow doctors to focus solely on the patient, instead of data input, helping deliver a higher quality exam and patient experience.

Family Eyecare of Roswell – Roswell, Ga.
Founded in 1994 by Maurice Zadeh, OD, Family Eyecare of Roswell specializes in providing patients with high quality vision and medical eye care in a personalized setting. Dr. Zadeh operates the practice as a sole practitioner and has been successful due in large part to a strategic relocation to a larger and more visible facility; greater involvement in community service projects such as Vision USA, InfantSee, and Optometry Giving Sight, among others; enhanced networking with other physicians and business owners within the community; a focus on online marketing/social media networking; and utilization of the latest technology in corneal, retinal, and anterior segment imaging, as well as visual field analysis.

San Ramon Family Optometry, Inc. – San Ramon, Calif.
San Ramon Family Optometry was established in 1989 by Beverly Smith, OD, and is now one of the largest practices in the San Francisco Bay Area, featuring five optometrists. Dr. Smith says that the practice's success is entirely a function of the people who work there, so they invest in the team by training them, rewarding them, and encouraging them. The practice's culture is to treat patients like guests in their home, and employees strive to make patients feel a "wow factor" with simple actions like caring for infants/toddlers during parent exams, offering Starbucks coffee, and placing gourmet chocolates on a velvet tray when dispensing glasses. San Ramon Family Optometry also supports patients outside of the practice by supporting local schools, sports teams, and local charities as an extension of its community service. The practice stays on top of the latest technology by purchasing at least one new diagnostic instrument a year, and mentors optometry students with the hope of inspiring them to pursue private practice.

Somers Eye Center – Somers, N.Y.
Ami Ranani, OD, began his career working for an ophthalmologist before opening Somers Eye Center in 1978. The practice has historically been an early adopter of the latest technology, recognizing that what is new is usually helpful, not something to fear. Buying this equipment is an investment that ultimately helps better serve patients, sets the practice apart, and contributes to its success. Somers Eye Center plays a significant role in continuing to advance the profession through the education of optometry students. It has been actively involved with the SUNY Optometry externship program, welcoming a new 4th year extern to the practice every three months. Dr. Ranani and his colleagues—including two other optometrists and 17 employees—view the outlook for the profession as bright, so long as practitioners continue to adapt and learn.

VisionArts Eyecare Center – Fulton, Mo.
James W. Vann, OD, is the sole optometrist at VisionArts Eyecare Center, which he first opened in 1990. Also a certified holistic health practitioner, he is dedicated to the prevention and early detection of eye disease. The practice teaches patients to preserve and protect their vision with healthy lifestyle choices, and incorporates cutting-edge technology into its services to provide the most comprehensive testing found in the area. The practice says, however, that all of that can be copied. What truly sets it apart is its staff—Dr. Vann's motto, "Hire heart, teach skill" makes all the difference. VisionArts Eyecare Center is also unique in its handling of pediatric patients. Cartoons are played in the exam room, and children are given books and eyeglasses-shaped cookies. During the summer, there are designated kids' days and the practice holds a community-wide "Great Glasses Play Day" to educate local residents about eye health. The practice also has its own non-profit organization, VisionArts Caring for Callaway, which fundraises for different charities each year.

Vision Health Institute – Orlando, Fl.
Originally established in 1990 by Mark Perry, OD, the practice now known as the Vision Health Institute was rebranded in January 2014 and has experienced double-digit growth each month since. The freshly remodeled, 6,000 sq. ft. space features the latest trends in optical and clinical design to give patients a high-end, sophisticated experience. Unique design elements include a trendy high-top dispensing bar, floor-to-ceiling windows, and 10-foot glass sliding barn doors to close off the exam rooms. Vision Health Institute also offers its patients convenience—because the facility was formerly a bank, it even includes a drive-up window for picking up eyewear and contact lenses. Technology and equipment are fully integrated throughout the office, utilizing an EHR system that is at the heart of the Vision Health Institute's efficient practice operations. The practice's team approach to management is demonstrated through collective decision-making processes, as all staff members actively participate in key business directives and purchasing decisions.

Wilson Eye Center – Valdosta, Ga.
Steven Wilson, OD, opened Wilson Eye Center in 1981, during a time of great economic volatility. Although chances for success initially seemed low, the practice has survived and thrived. Now, 35 years later, the practice is comprised of an 11,750 sq. ft. building with 13 exam rooms, four pretest rooms, a complete array of auxiliary equipment, a large optical dispensary, and an optical lab. At Wilson Eye Center, customer service has always been key. Patients appreciate perks such as digital appointment reminders, verification of insurance prior to appointments, efficient and accurate delivery of optical goods and services with the on-site optical lab, and co-management of ocular surgery with on-site ophthalmologists. More than 95% of patients are seen within 15 minutes of their scheduled appointment times. In addition, Wilson Eye Center was the first in the U.S. to launch "eyePOD (Personal Optical Delivery)," a service that delivers patients' glasses or contact lenses directly to their homes.
"We wholeheartedly congratulate our first 10 Best Practices," said Michele Andrews, OD, Director of Professional Affairs, North America, CooperVision. "It has been a true pleasure to learn about what makes each of them unique through their applications and the notification process. It is an honor to be given the opportunity to get to know them."
All U.S. optometry practices currently fitting contact lenses were eligible to submit themselves for consideration in Fall, 2015. Candidates were evaluated and honorees were selected by a panel of judges including Dr. Jason Compton, OD, FAAO, Compton Eye Associates and an AOA board member; Dr. Alan Glazier, OD, FAAO, Shady Grove Eye and Vision; Dr. Andrew Sacco, OD, FAAO, Sacco Eye Group; Dr. Gary Orsborn, OD, M.S., FAAO, FBCLA, CooperVision's Vice President, Global Professional and Clinical Affairs; and Dr. Andrews. Evaluation was based on insights and experiences shared about the practices' innovation, patient experience, and business culture.
"We received a wide variety of applications containing stories of great accomplishment from exceptional practices all over the country," said Dr. Andrews. "These creative, innovative practitioners and their staffs are helping to deliver the best possible eye care to their patients, and building thriving practices in the process. These are exactly the experiences we hoped to uncover with the Best Practices initiative, and it's truly inspiring. We look forward to partnering with our new Best Practices to share their stories across the industry to help educate others who strive to do the same."
In the months to come, the 2015 Best Practices will be broadly recognized and presented with opportunities to help educate and elevate the profession through the telling of their stories across the United States. In addition, honorees are invited to attend an educational meeting at CooperVision's research and development facilities in Pleasanton, Calif.
CooperVision will open 2016 Best Practices submissions later this year. The intention is to make the Best Practices program an annual event as part of CooperVision's commitment to showcasing the dedication of eye care practitioners to their patients and communities. To stay up to date on this process and learn more about this year's honorees, visit www.eyecarebestpractices.com and follow the initiative on Facebook and on Twitter. 
Back to the January/February Issue