Fresh from a recent roundtable event 'Managing Contact Lens Wear in Patients with Diabetes', CooperVison's Senior Director of Global Professional Affairs, Dr. Gary Orsborn, provides details of the main discussion points and key actions.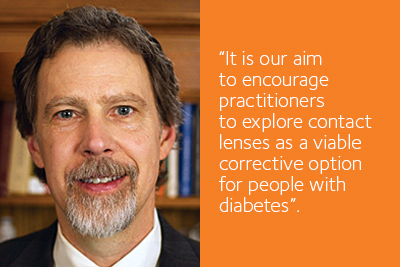 InFocus: What was the main objective of the roundtable event?
GO: The prevalence of diabetes is skyrocketing in the U.S., yet little has been written recently about managing patients with diabetes who are interested in wearing contact lenses. The main objective of the event was to discuss how to encourage practitioners to explore contact lenses as a viable corrective option, when appropriate, for people with diabetes who maintain good glycemic control.
We were keen to gain an understanding from an ECP point of view as to what more we could be doing to help them in supporting this unique group of patients and their needs.
The experience and information garnered from the discussion will be used for developing and communicating a medical awareness message, and will be in line with work being done by the American Diabetes Association to provide ECPs and patients with the most up to date advice possible via press and online.
InFocus: Who was in attendance on the day?
GO: We were delighted to welcome a panel of respected thought leaders in contact lenses and the field of diabetes who were handpicked to provide a strong mix of demographics and areas of expertise:
Dr. Paul Chous, MA, OD, FAAO (moderator) – award-winning author and features writer with a private practice specializing in diabetes eye care and education in Tacoma, Washington.
Dr. Brittany Mitchell, OD - specialist in fitting all modalities of soft contact lenses at Alabama Vision Center in Birmingham, Alabama.
Dr. Mark A. Ventocilla, OD, FAAO – Adjunct Clinical Professor with the Michigan College of Optometry and Editor of the Ocular Surface Society of Optometry Newsletter practicing in Muskegon, Michigan and Escondido, California.
Dr. Milton M. Hom, OD, FAAO, MACAAI (Sc) - Scientific Fellow of the American College of Asthma, Allergy and Immunology (ACAAI) and Diplomat of the American Board of Optometry, practicing in Azusa, California.
Dr. Kerry Gelb, OD – President and Board Member of the Association of Lenscrafters Leaseholding Doctors, member of the American Optometric Association and the New Jersey Optometric Society, practicing in New York and New Jersey and active on the lecture circuit.
InFocus: What were the main points discussed?
GO: The discussion covered the following primary focus areas:
Epidemiology trends in diabetes
Unique considerations for patients with diabetes
How to assess a patient with diabetes and prescribing contact lenses
Potential contact lens-related complications in patients with diabetes
Follow-up, ongoing care and management
Looking to the future

InFocus: What were the key takeouts from the event?
GO: There were a number of important insights from the discussion as a whole. Firstly, according to the American Diabetes' Association's latest statistics, diabetes is on the rise in the U.S. with 29.1 million now diagnosed and 86 million categorized as having pre-diabetes. Accordingly, there are going to be more and more patients in our customers' practices with diabetes and it is essential that we, as an industry, are equipped and can confidently educate patients as to the options available to them.
In detail, we discussed the importance of screening patients properly to avoid fitting high risk patients with high blood sugar test readings. There was great discussion on what are the preferred contact lens materials, replacement modalities, and lens care recommendations.  We also talked about the importance of regular follow-up exams and ways of counseling patients with diabetes, not only about contact lenses, but also for monitoring ocular surface and the retina.
ECPs need to be extra vigilant in managing treatment and also open to working with the patient's endocrinologist, primary care doctor and even nutritionists to facilitate a holistic approach which will benefit the patient in the long run.
InFocus: Are there any action points to be addressed?
GO: Taking the main discussion points from the roundtable, we are developing a communications plan with action points for ECPs and potentially a stand-alone supplement for use in trade magazines. In the meantime, the panelists have committed to supporting this issue through the dissemination of key information to their peers and education of their patients.
InFocus: What happens next for contact lens wearers with diabetes?
GO: CooperVision will be working closely with the roundtable participants to develop communications and helping ensure ECPs and their patients are knowledgeable on the topic. The outcomes from this roundtable are a great platform to build awareness of proper contact lens wear and care with ECPs and their diabetes patients.