CooperVision® is a global sponsor of Ocumetra's mEYE™ Guide and mEYE Gauge™. Shorter, simpler and more effective myopia management conversations.
Our commitment
As a global leader in myopia management, we've partnered with Ocumetra to sponsor mEYE™ Guide and mEYE™ Gauge. This is part of our commitment to empowering eye care professionals to help combat childhood myopia.
Myopia is a chronic, progressive disease growing in both prevalence and severity. It's expected to affect more than 50% of the world's population by 2050.1 This partnership with Ocumetra will broaden access to resources and help ensure the disease of myopia is treated with urgency.
Introducing mEYE™ Guide
One of the critical challenges the profession faces is quickly and simply explaining to parents the benefits of myopia management. mEYE™ Guide is a subscription-based communication tool for eye care professionals that helps parents understand the impact of myopia on their child's vision, and the benefits of myopia management for their child and their long-term eye health. This can turn long and complicated conversations into short, effective ones.
How does mEYE™ Guide work?
mEYE™ Guide streamlines the path to parents saying yes! to myopia interventions. The tool creates a personalized, mEYE™ Guide report for the parent that is easy to understand, instantly shareable, and permanently accessible.
Designed to explain a child's refraction status in simple terms that resonate strongly with parents, mEYE™ Guide simplifies the conversation. It allows eye care professionals to easily illustrate and rationalize treatment decisions and provides a means to maximize treatment uptake and retention, ensuring myopia management is adopted by those likely to benefit most.
Key features
mEYE™ Guide is packed with engaging features, including:
REFRACTION CENTILE GRAPHS

Help parents understand how their child's myopia compares relative to their peers using a centile graph format they are likely already familiar with, and shows them how treatment can help.

Child's Current Centile – Illustrate how advanced their child's myopia is compared to other children of the same age and sex.
Projected Adult Myopia Level – Based on their centile position, show parents how much their child's prescription is likely to change by age 20 without myopia management treatment.

VISION SIMULATOR

Help parents understand how their child sees now without vision correction and compare to how they are predicted see as an adult if their myopia is allowed to progress without myopia management treatment.

MYOPIA MANAGEMENT BENEFITS

Help parents understand the short and long-term benefits of myopia management in ways that make sense.

Progression Index – Illustrate that a child is more likely to need a stronger prescription next year without myopia management.
Ocular Health Index – Illustrate how myopia management can help preserve a child's eye health by reducing the risk of developing a myopia related eye disease.

ADDITIONAL RESOURCES FOR PARENTS

Help parents understand this new area of child eye care.

Myopia Management Treatment Options – Parent friendly explanation of what myopia management treatments are available.
What Else Can We Do – Key things a parent needs to know about how to minimize their child's risk of myopia progression.
Additional Tool: Introducing mEYE™ Gauge
Axial length estimation without the expense of biometry instrumentation. Ocular biometry is considered the gold standard but not available to all eye care professionals.
Ocumetra's mEYE™ Gauge is a machine based learning tool that will estimate axial length with a 95% confidence limit to provide you with a child's current approximate axial length as well as their projected adult axial length.
Key features
AXIAL LENGTH ESTIMATE

Current and projected axial length values to help you communicate the need for treatment for children at risk of myopia progression.

VISION IMPAIRMENT RISK INDEX

Ensure parents of children with myopic eyes understand their personal risk so they can make informed decisions in relation to your myopia management plan.

NORMATIVE DATABASE

Help you understand normative values for each child based on their age and sex.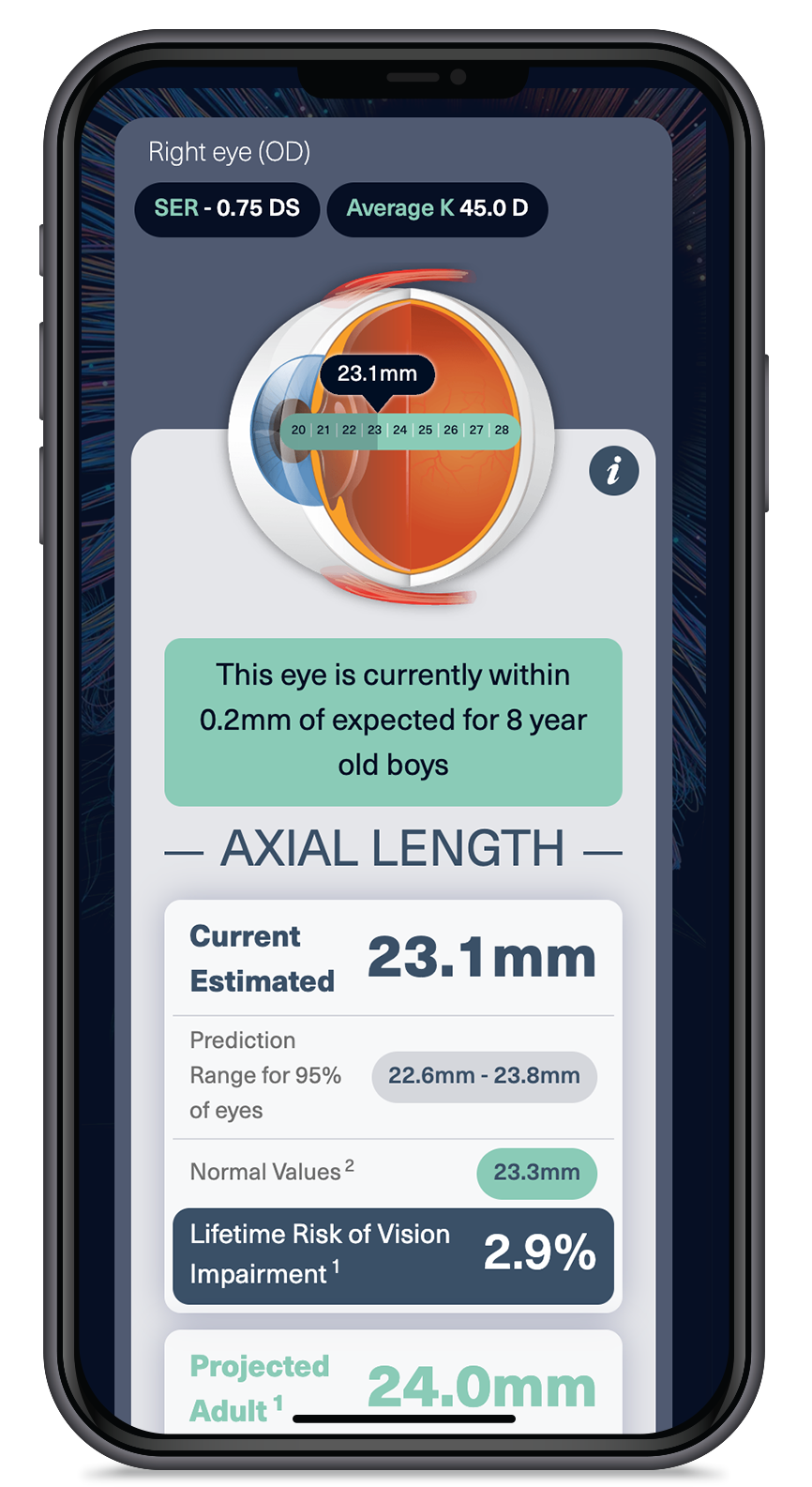 Exclusive offer from Ocumetra
We're happy to share that Ocumetra is offering prescribers of CooperVision Myopia Management products access to a 2-month FREE trial (extended free trial period) of mEYE™ Guide and mEYE™ Gauge.
Following the trial period, there is also a 20% discount off monthly subscription fee for the first year.*
Click here to redeem this special offer.
mEYE™ Gauge content is owned by Ocumetra Ltd. CooperVision® is a sponsor of the tool but is not responsible for the tool's content.
*Promotional offer must be redeemed between 01/18/23 and 01/18/24 at 12.00pm EST by registering and activating at cvi.ocumetra.com.
After the 2 month free trial, the discounted subscription rate will apply (currently $43.99/mo.; €39.99/mo., £35.99/month). This offer cannot be combined with any other offers. The free trial is available to new subscribers with the free trial activation code only. You will need to provide payment information at the registration.
You will not be charged for a mEYE™ Guide and mEYE™ Gauge subscription during the free trial period. TO CANCEL YOUR SUBSCRIPTION AND AVOID BEING CHARGED, YOU MUST CANCEL BEFORE THE END OF THE FREE TRIAL PERIOD. To keep your subscription once your trial period is over, no action is needed and your payment method will be billed at the then current subscription rate. If you continue your subscription after the trial period, you will be billed in advance on a recurring, periodic basis. Your subscription will automatically renew at the end of each billing cycle until you cancel your subscription which you can do easily by selecting this option under My Account on your Ocumetra platform. When you cancel, your account will remain at your current plan through the end of your current billing cycle.
Subscription rates may vary as a result of your country's currency and are otherwise subject to change. The free trial promo code must be redeemed at check out for your subscription activation. Promo codes are only valid for new subscribers.
This promotion and subscription is offered by Ocumetra Ltd. CooperVision, Inc., its subsidiaries and affiliates are not sponsors of, and are not responsible for, the promotion or the subscription services.
1. Holden BA et al. Global Prevalence of Myopia and High Myopia and Temporal Trends from 2000 through 2050. Ophthalmology. 2016; 123(5): 1036-1042.