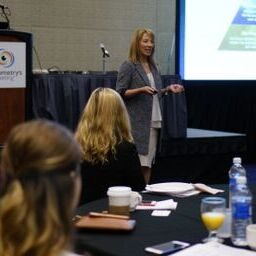 Twenty-one incoming and outgoing residents from U.S. & Canadian optometry colleges had the unique opportunity to prepare for their upcoming careers recently at Optometry's Meeting (AOA) in Boston when AOA Contact Lens & Cornea Section (CLCS) hosted the CLCS Residency Forum.
The event opened on June 28th as Dr. Michele Andrews and other members of CooperVision's Professional & Academic Affairs team reinforced their commitment to the industry's top young optometrists. Both incoming and outgoing Cornea and Contact Lens Residents spent the day together with members of the Cornea and Contact Lens Section of the AOA discussing various topics related to contact lenses. The agenda consisted of a full day of discussions regarding controversies and questions in contact lenses; a panel discussion on case reports, posters and papers; a panel discussion on practice-building; and a professional etiquette course.  The day closed with a recognition and awards reception.
On June 29th, CooperVision hosted the AOA CLCS Residency Forum Dinner.  During dinner, Mark Andre, CooperVision's director of Academic Affairs, provided an educational presentation on the technology of the MyDay® lens.   The evening also included an introduction of CooperVision's 2015 Best Practices winners: Dr. Ami Ranani from Somers Eye Care in Somers, NY; Dr. Casey Hogan from Advanced Eyecare Professionals in Oak Lawn, IL; and Dr. Kerry Giedd from Eola Eyes in Orlando, FL.  The winners engaged with the Residents by providing valuable experiences during and after residency, and insights into how they have made their practices so successful.
Said Andre, "The forum is an excellent opportunity for the future leaders in the contact lens field to interact with the present leaders in the industry, and establish relationships that will benefit the residents and their patients."
Residents at the CLCS Residency Forum