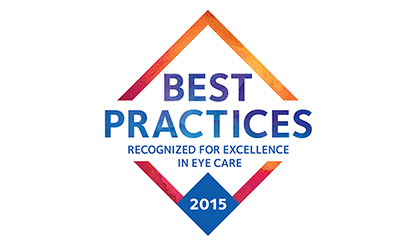 Before November 23rd, 2015, it's not too late to submit your practice for the opportunity to be named one of the "Best Practices" in the United States. The Best Practices initiative will identify and recognize U.S. eye care practices that have found innovative ways to make their businesses prosper and can share a refreshing perspective with the entire profession.
All U.S. optometry practices currently fitting contact lenses are invited to participate. Best Practices candidates are encouraged to submit practice profiles and stories via essay or video, sharing their insights and experiences in one or more of the following areas:
Innovation:  evaluated on contributions to the improvement of eye health and education, leveraging technology in remarkable ways to grow the practice, and advancing the eye care profession among the public.
Patient Experience:  judged on how a practice delivers excellent eye care experiences and education to its patients, and distinctive aspects of patient care.
Business Culture:  rated on a cultivation of staff, a positive working environment and community impact in relation to the overall success of the office.
The inaugural Best Practices recipients will be announced in January 2016. Honorees will be broadly recognized among their peers, patients and the U.S., and the Best Practices accolade will display to the nation which practices are among the very best.  This accolade will also give those named as Best Practices the chance to share the experiences and methods they employ to expert panels and events across the country. In addition, honorees will receive exclusive insights into how today's contact lens technology choices can boost their success via a special tour of one of CooperVision's global research and development facilities.
Candidates may submit at EyeCareBestPractices.com.   Applications will be accepted through Monday, November 23, 2015.
Back to the November/December Issue