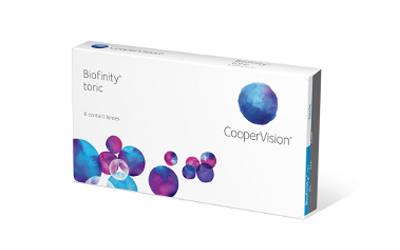 CooperVision has a strong heritage of providing lenses for successful patient fits in practices around the world.  The evidence is in the countless satisfied patients and eye care practitioners and the strong clinical data against other major monthly and 2-week lenses on the market.
Based on these years of experience, CooperVision knows that a truly comfortable monthly toric lens – and the satisfaction that comes with it – has to be designed with a combination of factors in mind.  With a winning combination of materials and advanced design, CooperVision delivers a lens that provides unsurpassed comfort and excellent visual acuity - Biofinity® toric contact lenses.
The science behind the comfort of Biofinity® toric lenses is called Aquaform® Technology.  This advanced lens chemistry features a hydrogen bond structure that maximizes water retention.  Aquaform® Technology creates a naturally hydrophilic lens that retains water and eliminates the need for additives, coating or surface treatments.
Biofinity® toric lenses  also feature an optimized ballast toric design.  This design provides better visual acuity and a stable and comfortable fit due to the optimized lens geometry, uniform horizontal ISO thickness, wide ballast design, and larger toric optic zone.
Dr. Susan Keene of Envision Eyecare says that the Biofinity® Toric lens has taken fitting astigmatic patients in her busy practice to a whole new level. 
"Because the Biofinity® toric lens offers incredible stability, patients are amazed at how crisp, and clear their vision is… usually with the first trial pair. As a practitioner, it allows us to deliver a "Wow" fitting experience to patients who have traditionally struggled with other brands of contact lenses. This exceptional experience ensures that we have created a bond with the patient.  They trust us with their vision and are much more loyal to our practice!"
Susan Keene, Envision Eyecare, Marion, VA
Also aiding with patient satisfaction, Biofinity® toric's broad range of parameters provides you with the ability to fit a broad range of patients. This range will become even broader with the launch of Biofinity XR toric in 2016.  
Rx ONLY:  CooperVision contact lenses are indicated for vision correction. Wearing contact lenses may result in eye problems including eye infections and corneal ulcers.  These conditions can develop very quickly and can be very serious and in rare cases, may result in loss of vision.Consult the instructions for use for more information.  Visit www.coopervision.com