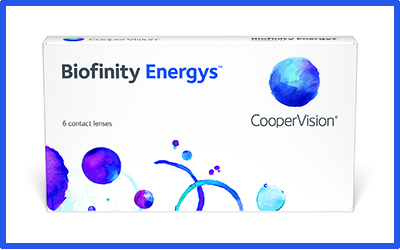 "A stunning 90 percent of patients do not talk with their eye care practitioners about interactions with digital devices1, leaving them to believe that tired and dry eyes are an inescapable part of modern life," said Gary Orsborn, O.D., Vice President of Global Professional & Clinical Affairs for CooperVision. "We're committed to partnering with contact lens-fitting practices to help them discuss new and better options for patients who are using digital screens throughout the day, such as fitting Biofinity Energys® lenses."
The patent-pending CooperVision® Biofinity Energys® contact lenses are designed for all-day wear, helping people's eyes better adapt so they can seamlessly and continuously shift focus between digital devices and offline activities. After one week of wear, eight out of ten digital device users agreed that Biofinity Energys® lenses made their eyes feel less tired2.
Two elements are at the heart of the lens' performance and unique optimization for digital device users:
DigitalBoost™: An innovative single vision aspheric lens design that delivers a +0.3D digital boost, which helps reduce eye tiredness associated with digital eye strain.

Aquaform® Technology: An advanced material technology that hydrates contact lenses to twice their weight in water7 for natural wettability and incredible comfort; can help your eyes feel less dry, even during times of reduced blinking. 
The lenses also incorporate a smooth, naturally wettable surface design with a special rounded edge. This reduces conjunctival interaction, improving wearing comfort.
More than 90 percent of adults use digital devices more than two hours a day3 and nearly 60 percent of adults use digital devices for greater than five hours per day3. Research conducted by Indiana University cited that among individuals using such devices, greater than 75 percent report eye tiredness and dryness at least once per week or more, and 35 percent once per day or more.
"With the reliance on smartphones, tablets, laptops, in-car displays and more every day, we know that trying to change people's behaviors — essentially asking them to scale back their device use or change how they interact with screens — has limited value. CooperVision committed itself to finding a better solution – one that could make a meaningful difference in people's everyday lives," said Dr. Orsborn. "As a contact lens specifically designed for millions of digital device users, Biofinity Energys® paves the way for meeting their demanding needs in a wholly new manner. Our research and development team broke new ground, discovering a way to address both optical and comfort aspects in a contact lens created to be worn throughout the day."
Seven in ten adults experience symptoms that come with long hours of digital device usage3, yet the widespread condition is often dismissed as "normal" by a population that has become accustomed to a digital lifestyle1,5,6. Discomfort is most commonly felt after two or more hours in front of a digital screen, characterized by tiredness, dryness, and redness. Extended exposure to bright light, screen glare and longer periods of device use can contribute to the issue. This type of use can also create varying degrees of physical discomfort, and may also contribute to productivity loss, sluggishness and stress.
The issue doesn't discriminate by age. More than a third of Millennials spend nine or more hours each day on digital devices3. Not surprisingly, 68 percent3 to 88 percent4 of this population report eye tiredness and dryness symptoms.
To address the eye health challenges posed by increasing screen time, CooperVision has launched FightEyeFatigue.com – a resource that can help eye care professionals begin conversations with patients about device use in a humorous, realistic and non-threatening manner.
Biofinity Energys® lenses will be available in the same material (comfilcon A, 48 percent water content) and parameter range as Biofinity® sphere lenses, with an 8.6 mm base curve, 0.08 mm center thickness at -3.00D, and 14.0 mm diameter in sphere powers from +8.00 to -12.00. The Dk/t of Biofinity Energys® is also the same as Biofinity® sphere (160 at -3.00D).
For more information, please visit the CooperVision Practitioner Site.
The Vision Council. Eyes Overexposed: The Digital Device Dilemma - 2016 Digital Eye Strain Report.
Data on file.
The Vision Council. Hindsight is 20/20: Protecting Your Eyes from Digital Devices - 2015 Digital Eye Strain Report.
YouGov European Eye Fatigue Study, April 2016.
"Doctor, My Eyes… Are Tired!" Review of Optometry, May 15, 2016.
The Vision Council. DigitEYEzed: The Daily Impact of Digital Screens on the Eye Health of Americans - 2014 Digital Eye Strain Report.