Treat your patients to the proven standard in toric performance. Only Biofinity® toric.
High marks. Strong performance. Extraordinary range. Biofinity® toric and Biofinity® XR toric feature Optimized Toric Lens Geometry™ and Aquaform® Technology, combined with an extraordinary range of parameters, allowing you to fit virtually all your astigmatic patients in an innovative contact lens. It's no wonder Biofinity® toric is the most prescribed toric lens on the market.1
Get the Kit!
Let us help you educate your patients with the Biofinity® Toric marketing kit. From brochures, counter cards and posters, to digital assets like social media posts and emails, your patients can learn about astigmatism and the benefits of wearing the best.1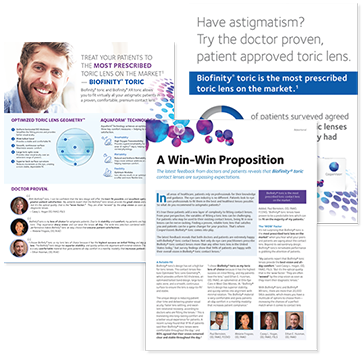 Request your promotional materials and receive an instant download of digital marketing assets.
Doctor proven.
Why Biofinity® toric is the go-to lens.
Outstanding features. Positive feedback. Confident fittings.
Biofinity® toric is the clear choice for astigmatic patients. Here's a quick summary of all the reasons why.
Patients love Biofinity® toric.2 Hear what practitioners say about their experiences.
When patients describe the performance of their Biofinity® toric lenses, practitioners know right away that it's a great fit.
The ingenuity and advantages of Optimized Toric Lens Geometry.
Biofinity® toric's ballast remains constant across the power range (sphere powers, cylinders, and axis), offering predictable, consistent performance for any prescription.
2-to-1
Patients preferred Biofinity® toric lenses over Ultra for Astigmatism for overall performance by more than a 2-to-1 margin
3

Rated Higher
Biofinity® toric was rated significantly higher than Ultra for Astigmatism for overall satisfaction4
4

84%
84% of patients surveyed agreed or strongly agreed that Biofinity® toric lenses are the best they've ever worn
2

90%
90% of patients surveyed would recommend Biofinity® toric to family and friends
2


"My patients report that the Biofinity® toric lenses provide [superior] vision and all-day comfort, but it's the optical quality that is the 'wow factor.' They are often 'wowed' by the crisp vision as soon as they insert their diagnostic lenses."
–Casey L. Hogan, OD, FAAO, FSLS

"Biofinity® toric is my lens of choice for astigmatic patients. Due to its stability and comfort, my patients are happy with Biofinity® toric. They experience sharp vision and can wear the lenses all day. The wide lens selection combined with the comfort and performance makes Biofinity® toric an easy choice that ensures patient satisfaction."
–Melanie Frogozo, OD, FAAO

"I choose Biofinity® toric as my toric lens of choice because it has the highest success on initial fitting and my patients love the lens. The Biofinity® toric design has superior stability, and quickly settles into alignment with minimal rotation. The Biofinity® material is a very comfortable material that gives patients all-day comfort in a monthly modality that increases patient compliance."
5
–Ethan Huisman, OD, FAAO
U.S. Industry data on file.
The results of an online survey involving patients who wear Biofinity® toric contact lenses. January 2018 Biofinity® toric wearer online survey. Data on file.
After 1-month of wear, p=0.01
After 2-weeks of wear, p<0.01 and 1-month of wear, p=0.02
Contact Lens Spectrum: Nichols JJ, Fisher D. Contact Lenses 2018. Contact Lens Spectrum. 2019 Jan;34:18-23, 50.