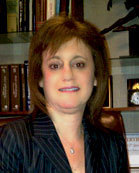 By Dr. Susan Resnick
 The introduction of the clariti® 1 day family of lenses has infused a true "breath of fresh air" for my patients and my practice. clariti 1 day, available in sphere, toric and multifocal designs, affords me the welcomed        opportunity to offer virtually ALL of my patients the benefits of silicone hydrogel technology in a daily disposable contact lens.  With a practice largely devoted to contact lenses, innovation such as this is a driving force in  my practice growth. 

Silicone hydrogels in a daily disposable modality promote the healthiest contact lens modality wearing experience and are my first choice when fitting new patients or refitting current wearers. My patients benefit from whiter eyes (compared to when wearing hydrogel lenses), high wettability and simplicity of care. This results in fewer unscheduled visits, better compliance and enthusiastic referrals. As the cost of clariti 1 day lenses is similar to conventional 1 day lenses, I no longer face the clinical dilemma of having to choose between providing the healthiest ocular environment OR delivering on convenience for critical subsets of my contact lens patients.

With the clariti 1 day toric and clariti 1 day multifocal designs, I can now meet the visual needs AND deliver the benefits of increased oxygen and improved comfort to my astigmatic and presbyopic patients. In upgrading these patients to clariti 1 day technology I differentiate myself as a specialty contact lens fitter. Successful fitting of these more demanding populations serves to generate word of mouth referrals, reduce contact lens dropout and foster patient loyalty.

The natural wettabilty and low modulus of clariti 1 day are factors in providing my patients all day comfort, while not compromising on ease of handling. These are important considerations in my choice of clariti 1 day as my go-to brand for the new contact lens wearer, including children and adolescents. With the widest range of available parameters in the daily disposable silicone hydrogel category, including spherical power up to +8, a -2.25 cylinder and expanded axes, prescription requirements are rarely a barrier.  

It's not often that a full product line is released at the same time that is capable of meeting the clinical challenges of such a broad patient base.  This alone makes clariti 1 day an invaluable tool for ECPs. With the competitive pricing of clariti 1 day and dedication to independent ECPs, CooperVision, continues to be a valued partner in my practice. 

Dr. Resnick is a partner in a very successful practice in New York City, specializing in contact lenses.  She is nationally renowned lecturer, author and clinical investigator.