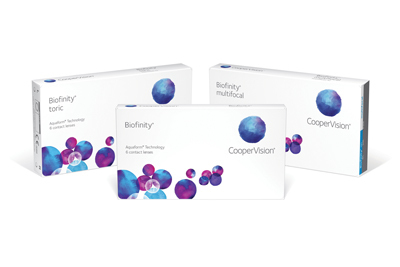 Patients have named Biofinity as their lens of choice against the leading competitors, Air Optix Aqua sphere[1] and Air Optix for Astigmatism[2] , in a recent clinical study. Preferred 2:1 thanks to its comfort, vision and deposit resistance, Biofinity rated higher across a range of criteria including visual acuity and overall preference.
As a practitioner, these findings provide even more compelling reasons for you to recommend Biofinity to your patients. Showcasing the long-term benefit of fitting these lenses, you can rest assured that nothing builds a practice like highly satisfied patients.
The lens' superior performance is all due to CooperVision's unique Aquaform® Technology. Offering the optimum balance of high oxygen transmissibility, natural and uniform wettability and a soft, flexible modulus helps to maximize your patients' satisfaction.
The benefits of this exclusive technology provide monthly wearers with an unmatched combination of comfort as highlighted below: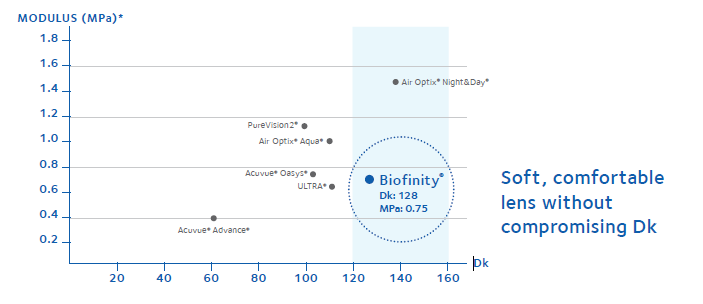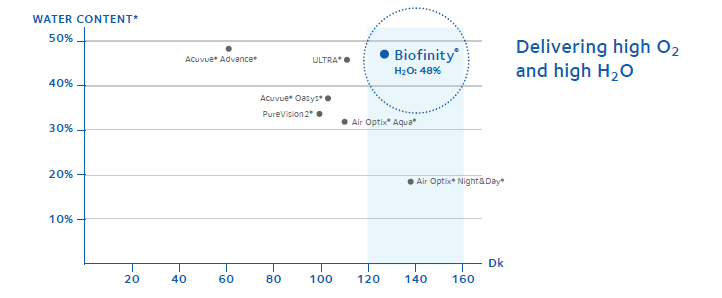 To help you communicate to your patients the range of benefits available with the impossibly comfortable and clear Biofinity family of lenses, we have produced a suite of refined patient-facing POS materials.
The selection of new marketing materials includes a patient brochure and holder, posters and a premium bag for the patient's lens purchase. Useful gifts such as a Biofinity contact lens case, tips and tricks for lens care, information on rebates and details of the new CooperVision mobile application will also be included in the bag to add even more value for the patient.
When working with your presbyopes, we also have useful reading samples available for the patient's use when trying on Biofinity lenses.
Sample content for Facebook and Twitter posts will help you to really showcase Biofinity's benefits. Plus, this video can be shared with your patients to demonstrate Biofinity's dreamlike comfort: Biofinity Montage
[1]Clinical evaluation of Coopervision Biofinity spherical contact lens versus Alcon Air Optix Aqua spherical contact lens over 1-month of wear. 2014; data on file.
[2]Clinical evaluation of Coopervision Biofinity toric contact lens versus Alcon Air Optix for Astigmatism contact lens over 1-month of wear. 2014; data on file.
Air Optix® is a registered trademark of Novartis AG.