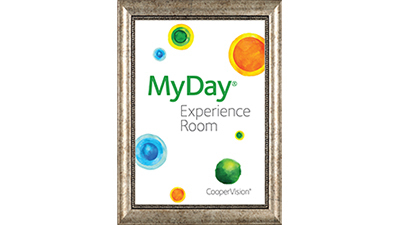 It would have been difficult to miss the introduction of CooperVision's MyDay silicone hydrogel daily disposable contact lenses at Optometry's Meeting 2015 in Seattle, WA on June 25 – 27.  Colorful banners, boards and water cooler signage spotted the conference center, touting the "Simply Smarter Chemistry" of MyDay lenses.  MyDay is the newest member of Coopervision's portfolio of silicone hydrogel lenses – the most complete portfolio in the world.
Eye Care Practitioners (ECPs) had the opportunity to experience the comfort and softness of MyDay for themselves in a special VIP MyDay Experience Room. Here, ECPs had the chance to speak with CooperVision's research and development experts about the features and benefits of Smart Silicone Chemistry, be fit with the MyDay lens by Washington-licensed ODs, ask fit set availability questions of sales and marketing representatives, and enjoy light refreshments.
The media noticed the buzz about MyDay and reacted as well.  Optometry Times included the introduction of MyDay in their June 27 article, "3 things you need to know from AOA 2015."  Primary Care Optometry News also put MyDay in the spotlight with their June 27 article "CooperVision introduces daily disposable silicone hydrogel lens."
CooperVision has begun limited distribution of MyDay fit sets and lenses in the U.S., and MyDay will become available to all customers on August 1, 2015.