New Premium Silicone Hydrogel 1 Day Lens Delivers Uncompromised Comfort and Handling for Patients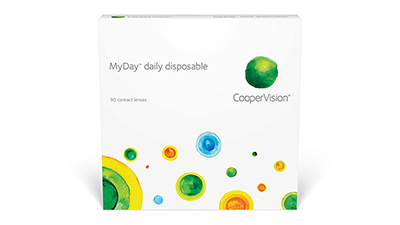 CooperVision, Inc. recently announced the introduction of MyDay® silicone hydrogel daily disposable contact lenses to the U.S. market. MyDay sets a new standard for the premium daily disposable contact lens category, creating significant opportunity for practitioners to migrate more wearers into this rapidly growing segment.
Incorporating new material and advanced design, the lens brings together everything that practitioners and patients need for an unprecedented daily disposable experience: an unmatched level of softness, uncompromised comfort and handling, plus the healthy advantages of silicone hydrogel.
In addition, its highly anticipated U.S. availability further expands daily disposable fitting possibilities from CooperVision, with practitioners able to select from MyDay, clariti® 1 day and Proclear® 1 day lenses to provide exceptional options for just about every eye.
MyDay daily disposable lenses are made with Smart Silicone™ chemistry, an innovative technology that delivers a hybrid of benefits—the best of both hydrogel and silicone hydrogel lenses. Smart Silicone optimizes oxygen permeability in a lens that is just 4.4% silicon—the lowest percentage of silicon found in a silicone hydrogel, daily disposable lens. By using less silicon, Smart Silicone leaves more room in the lens for built-in channels of comfort-enhancing moisture. It also enables a modulus of only 0.4 MPa—lower than any other 1 day silicone hydrogel lens—to make MyDay the softest silicone hydrogel daily disposable available. And while the lens provides the optimal softness of a hydrogel, it remains strong enough to ensure the exceptional handling of a silicone hydrogel lens.
"As a partner of the eye care community, it's important that we continue to develop and introduce advanced lenses that help build practices and deliver the softest, most comfortable lens-wearing experience possible," said Jerry Warner, President, North America, CooperVision. "MyDay daily disposable lenses are the result of years of tremendous R&D effort that blends the best of our research capabilities with a deep understanding of the needs of practitioners."
With a smooth lens surface and rounded edge, MyDay daily disposable lenses incorporate an advanced lens design to provide a more natural feeling as the eyelid glides effortlessly over the lens. Testing shows that MyDay lenses not only have immediate comfort at insertion, but they have excellent comfort over the course of the day. MyDay lenses are naturally wettable, unlike surface coated lenses. Built-in UV protection* filters 85% of UVA and 96% of UVB rays, helping promote long-term ocular health.
CooperVision first introduced MyDay lenses in Europe in June 2013, then rolled out distribution to Australia and New Zealand in early 2014.
"I have been prescribing contact lenses for 35 years, and it is hard to remember an introduction of a new product that has been met with such positive patient reaction as MyDay," said Dr. Michael Hare of Eyecare Plus Southport and Benowa in QLD, Australia. "In our practice's experience, at least 7 out of 10 patients have preferred the end of day comfort with the MyDay silicone hydrogel lens from CooperVision."
"MyDay has been brilliant," said Sam Armstrong, an optician in the U.K. "Everyone I've tried it on has reported that it's the most comfortable contact lens they have worn for end-of-day comfort."
MyDay daily disposable lenses feature sphere powers from +6.00D to -10.00D (0.50 steps after +5.00D and -6.00D); a base curve of 8.4mm; a diameter of 14.2mm; a Dk/t of 100 (@ -3.00D); and a modulus of 0.4 MPa.
CooperVision has begun limited distribution of MyDay fit sets and lenses in the U.S., and MyDay will become available to all customers on August 1, 2015.
*Warning: UV-absorbing contact lenses are not substitutes for protective UV-absorbing eyewear, such as UV- absorbing goggles or sunglasses, because they do not completely cover the eye and surrounding area. Patients should continue to use UV-absorbing eyewear as directed.