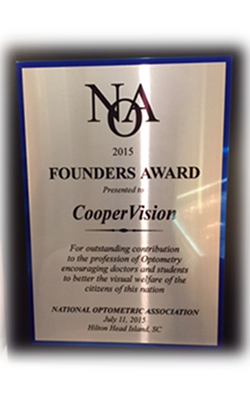 The National Optometric Association (NOA) has selected CooperVision, Inc. as the recipient of its 2015 Founders Award. The award is given for outstanding contribution and commitment to the profession of optometry, encouraging doctors and students to better the visual welfare of United States citizens.
CooperVision was recognized for its increased involvement and support of NOA members at local events around the country, as well as its support of students through the funding of National Optometric Student Association (NOSA) scholarships.
"CooperVision's commitment is an example of what our founders envisioned for partners that could help promote the NOA's mission of advancing the visual health of minority populations,'" said Stephanie Johnson-Brown, O.D., M.Ed., Immediate Past President of the NOA. "The NOA is steadfast in our commitment to recruit and retain minority students in optometry, assist new optometric graduates and practitioners, and deliver effective and efficient vision care. We look forward to continuing to growing our relationship with CooperVision."
Working with the NOA, CooperVision established the NOA Future Contact Lens Leader Scholarship program, which awarded three scholarships to fourth year optometry students who best demonstrated leadership and a high interest in the area of contact lenses. The recipients were Janis James from the Inter American University School of Optometry in Puerto Rico, Breanne McGhee from the Pacific University School of Optometry, and Christina Welling from the Indiana University School of Optometry.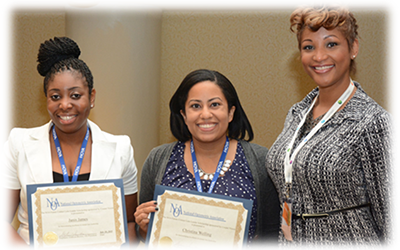 Said Jerry Warner, President, North America at CooperVision, "The work of the NOA is significant, and we are proud to partner with them to give back to current and future practitioners who share our commitment."