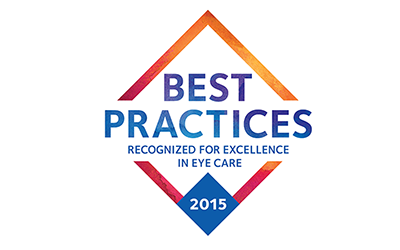 It's about recognizing success in optometry. It's bringing to light the innovative and unexpected things that eye care practitioners do every day to provide the best possible care to their patients. It's about building prosperous practices.
At Vision Expo West in Las Vegas, CooperVision, Inc. unveiled a first-of-its-kind Best Practices initiative (EyeCareBestPractices.com)—kicking off a nationwide search for honorees. 
Best Practices will discover and recognize U.S. eye care practices that have found unique ways to make their businesses thrive and can share a refreshing perspective with the entire profession.
"Being an eye care practitioner is more challenging than ever, with pressures and stresses coming from sources far and wide," said Gary Orsborn, O.D., Vice President of Global Professional and Clinical Affairs, CooperVision. "Yet every day, we hear stories about how practices are overcoming these challenges in new, inventive and exciting ways. Through our Best Practices initiative, CooperVision is partnering with the profession to recognize creativity and success, and then share these stories to inspire new ways of thinking and drive excellence in eye care."
All U.S. optometry practices currently fitting contact lenses are invited to participate. Best Practices candidates are encouraged to submit practice profiles and stories, sharing their insights and experiences in one or more of the following areas:
Innovation will be evaluated on contributions to the betterment of eye health and education, leveraging technology in interesting ways to grow the practice, and advancing the eye care profession among the public.
Patient Experience will be judged on how a practice delivers excellent eye care experiences and education to its patients, and unique aspects of patient care.
Business Culture will be rated on a cultivation of staff, an enriching working environment and community impact in relation to the overall success of the office.
Candidates can choose to submit their stories via written responses or video at EyeCareBestPractices.com. Applications will be accepted through Monday, November 23, 2015.
The inaugural Best Practices recipients will be announced in January 2016. Honorees will be broadly recognized among their peers, and be presented with opportunities to help educate and elevate the profession through the telling of their stories across the United States. Practices receiving the honor may be invited to serve on high-profile professional panels, meet with members of the eye care and medical news media, and contribute to knowledge-building white papers. In addition, honorees will be able to participate in enhanced training and educational meetings at CooperVision facilities or in other locations.
For more information about the Best Practices initiative, or to apply, visit www.eyecarebestpractices.com.