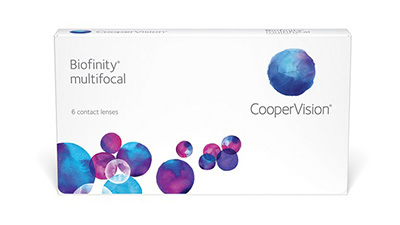 The expanded powers for Biofinity® multifocal lenses, now ranging from +6.00 to -10.00, now mean more opportunities for you to fit these impossibly comfortable contact lenses. The addition of the new powers extends the comfort and visual acuity benefits of the popular silicone hydrogel monthly replacement lenses to even more presbyopes.
In addition to existing sphere powers, Biofinity® multifocal lenses will now be available in -8.50, -9.00, -9.50, and -10.00 in +1.00, +1.50, +2.00, and +2.50 ADD powers in both D and N lens designs. The new powers became available in dispensing 6-packs and single trial lenses starting December 1st in the United States and Canada.
CooperVision Biofinity® multifocal is a premium lens that offers eye care practitioners a simplified approach to fitting their presbyopic patients. The lens combines key elements from the Biofinity® silicone hydrogel lens material with CooperVision's Balanced Progressive Technology. This advanced design contains multiple zones of vision correction in both lenses, allowing for clear vision up close, intermediate, and far away. Biofinity are the only monthly lenses with Aquaform® Technology, combining an unmatched balance of high oxygen permeability (Dk128), high water content (H2O 48%), and optimum modulus for a softer, more flexible lens (modulus 0.75 mPA).