Trust the high-performing lenses from a world leader in toric design to treat your astigmatism
Patients who purchase by December 31, 2023 can save up to $2001 on their initial annual supply of Biofinity® toric or MyDay® toric.
Complete this form
to access up to $200 savings on an annual supply of Biofinity® toric or MyDay® toric lenses!
*By submitting this form, you grant CooperVision, Inc. permission to add your contact information to our database to send you information and communications related to our products and services. The use of personal contact information will be treated in accordance with CooperVision's Privacy Policy
Fill out this form
to access up to $200 savings on an annual supply of Biofinity® toric or MyDay® toric lenses!
*By submitting this form, you grant CooperVision, Inc. permission to add your contact information to our database to send you information and communications related to our products and services. The use of personal contact information will be treated in accordance with CooperVision's Privacy Policy
About Biofinity® toric
The most prescribed toric contact lens on the market.2 84% of patients agree that they were the best lenses they've ever worn.5
Monthly replacement
Remarkable balance of comfort, breathability and excellent vision performance
Dependable stable fit
About MyDay® toric
The same proven design features and parameter options as Biofinity® toric. Convenient daily replacement schedule.
All-day comfort
Allows up to 4x the oxygen transmissibility vs. hydrogel 1-day contact lenses, to help keep your eyes clear and white3,4
Helps protect eyes from harmful UV rays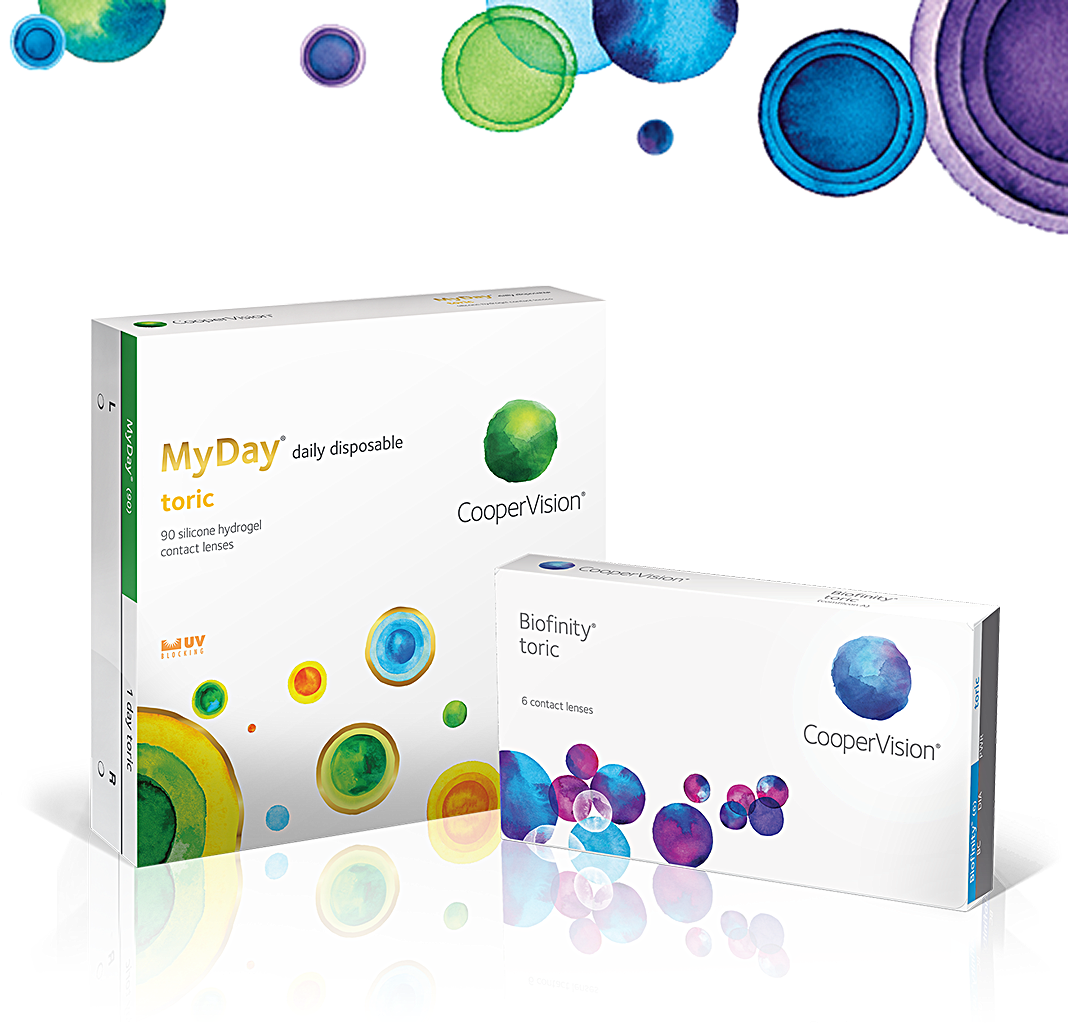 For every Biofinity
®
toric and MyDay
®
toric contact lens sold in the U.S., CooperVision
®
partners with Plastic Bank
®
to collect and convert an equal amount of plastic through their global network.
†
Collectors in coastal communities receive a premium for the materials they collect, which helps provide them with basic family necessities, such as groceries, cooking fuel, school tuition, and health insurance. So, with Biofinity
®
toric and MyDay
®
toric contact lenses, you'll enjoy great vision quality
††
and a comfortable lens-wearing experience, all while making a difference in our environment.
Learn more

We're confident you're going to love your CooperVision® contact lenses, but if you aren't completely satisfied, rest assured, you have options!*
Learn more
* Opened boxes must be returned within 100 days from the date of purchase with at least one unopened contact lens blister per box. Offer not valid in conjunction with a product rebate. For complete details, please see the Terms and Conditions on the Patient Reimbursement Form.
Disclaimers:
1. Rebate submissions must be made within 60 days of purchasing. Internet retailer purchases are not eligible. Purchase through 12/31/23. 2. US industry data on file. 3. Manufacturer stated oxygen transmissibility values (Dk/t): MyDay® daily disposable (100), clariti® 1 day (86), 1-DAY ACUVUE® MOIST® (25.5), Soflens® daily disposable (24). 4. High oxygen transmissibility promotes clear, white eyes. 5. The results of an online survey involving patients who wear Biofinity® toric contact lenses. January 2018 Biofinity® toric wearer online survey. Data on file
† Net plastic neutrality is established by purchasing credits from Plastic Bank. A credit represents the collection and conversion of one kilogram of plastic that may reach or be destined for waterways. CooperVision purchases credits equal to the weight of plastic in Biofinity® fami­ly and MyDay® family orders in a specified time period. Biofinity® family and MyDay® plastic is determined by the weight of plastic in the blister, the lens, and the secondary package, including laminates, adhesives, and auxiliary inputs (e.g. ink). ††Brennan NA. Beyond Flux: Total Corneal Oxygen Consumption as an Index of Corneal Oxygenation During Contact Lens Wear. Optom Vis Sci 2005. 2005;82(6):467-472.
---
CooperCompanies