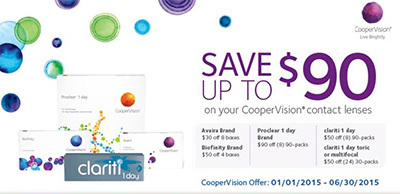 Isn't technology amazing?
 It's even helping CooperVision to improve the user experience for submitting patient rebates.
Your patients will be happy to experience the easier process and to receive their prepaid Visa® card faster than before by using the new process.  The benefit to you, is that sharing this simplified rebate process can encourage patients to purchase larger supplies of the contact lenses that you prescribe from your practice. 
Consider these findings of a 2014 study of over 1,200 consumers (data on file):
55% of consumers surveyed looking for contact lens promotions ask their eye care practitioner
27% of consumers surveyed looking for contact lens promotions  look at materials on display at eye care practitioner's office
72% of consumers surveyed said that promotions are somewhat, very or extremely influential on quantity of contact lenses purchased
You can help your patients save money by providing them with information about rebates, while simultaneously making additional profits for your practice when they buy a higher volume of lenses.  It's a win/win for you and the patient.
Please share with your patients the highlights of the new rebate submission process and its additional features:
Patients can now take photos of their required documents and upload via mobile device or a computer instead of printing and mailing documents

Images of the eye exam receipt, purchase receipt and end panels from the boxes are required

Patients can also "save" a submission to print later if they don't have immediate access to a printer
To learn more about CooperVision patient rebates available, contact your Sales Representative, call Customer Service at 800 341 2020, or click here.